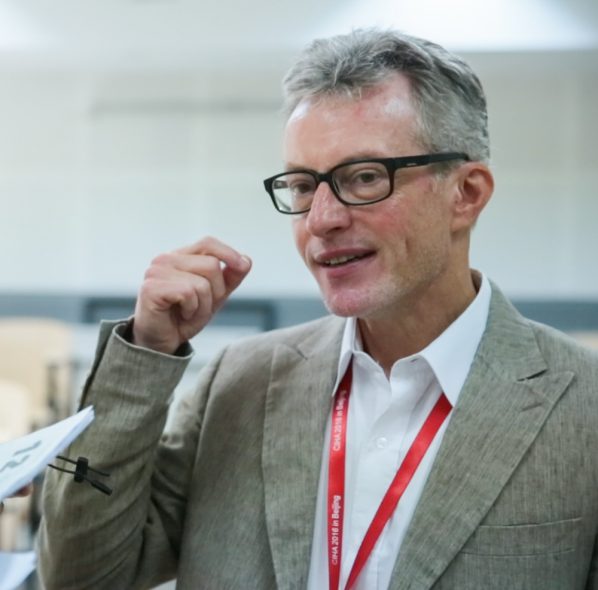 From September 16 to September 20, 2016, the 34th World Conference on Art History was held at the Central Academy of Fine Arts (abbr. CAFA) and Peking University in Beijing. Mr. Antoine GOURNAY, Professor from Paris-Sorbonne University, was invited to co-chair the discussions of Session 12 entitled Garden and Courtyard. CAFA ART INFO took this opportunity to take an interview with him.
Gardens and courtyards were important themes in traditional Chinese paintings, especially during the Song and Yuan Dynasties. The meanings and significance of gardens and courtyards remain a topic of discussion. According to your understanding, how can we understand gardens and courtyards as a common art form in the multicultural context, or to some extent a public art form?
Antoine GOURNAY: Of course, around the world there are very different ways to design courtyards or gardens, whatever you call these open-air spaces. This is what we tried to show when we organized the session, inviting speakers who would represent various countries and traditions. But what I think is interesting is that, wherever you go, whatever the country, the key issues are always the same. There are two main issues in designing gardens. One issue is how you design them in order to provide people with places that will be aesthetically enjoyable, not only because they are nice to look at, but also because when in them, you can hear various sounds, smell different fragrances, etc. A garden is a place that is specifically designed to fulfill this complex aesthetic purpose: it appeals not only to the eye, as paintings do, but to all your senses. But this is not the only issue: the other point is that in order to be able to fully enjoy that space, you also need to design it in a way that will make it possible for you to be physically present within it, go around it or at least spend some time in it. So you will need to design that place in a way that will make it not only enjoyable, but also livable. These two issues, aesthetic and practical, are always entwined, but they can have many different solutions. Even within one country or tradition, as we can see for example in China. There are many different ways of designing the gardens aesthetically and practically. It has not always been the same. If you compare gardens from the Tang Dynasty with Song or Ming Dynasty gardens, answers will be different. And there are some variations from the aesthetic and the practical point of views. For example, within the Chinese tradition, if you look at Jiangnan gardens, very small private gardens for scholars who live in the middle of Suzhou or Yangzhou, these gardens are designed in a very different way, both aesthetically and practically, from what you could find in the much larger imperial gardens in Beijing.
The essays you have selected seem to construct a contrasting and comparative study of garden cultures in the East and West. What do you think the common and different perspectives are?
Antoine GOURNAY: If you try to compare different regions in the world, for example China and Western Europe in the same period, you will surely and easily notice some differences. Well, it is always possible to compare things, but I think it's not enough, because if you only compare them, you will only notice differences. This is not the point. The issue is actually to show how in the two places you compare, similar questions have been answered in various ways. For example, you can see it, in the way water has been used for aesthetic purposes in gardens. In this conference, we were not only talking about China and the West, but also about Arabic Muslim gardens. In that tradition, running water is very important, perhaps even more important than in Chinese gardens. In Chinese gardens, of course, there can also be running water, or small cascades, but also many ponds which need to have a flat surface, so that you can see the moon reflected in it. So water can be used in many different ways. So for similar issues, you can have various solutions.
What do you think is the most valuable thing in these discussions and what has inspired your thinking through this conference?
Antoine GOURNAY: To my view, this conference is a very rare and wonderful opportunity. I have been studying the world of gardens for a long time, and I have often noticed that specialists in that field would usually study gardens belonging to their own tradition, and according to their own habits. Most people in France would study local gardens. Most people in China would study Chinese gardens. And I thought that this time we could bring scholars together and really exchange together.
What do you expect to be talking about Chinese archaeology and art history? Or what do you expect to find in this field in the future?
Antoine GOURNAY: Archaeology and art history can be very different in their approaches, but they complement each other. Archaeology can be very important in two ways, to help us study and understand gardens. One is excavations. Nowadays, methods of excavations make it possible to find out more about very old, ancient gardens, even gardens that do not exist any more. But archaeology also provides us with its own ways to analyze things. For example, one of its goals is to show how gardens relate to the societies that have shaped them, and also how they have contributed to shape societies. On the other hand, art historians have a much older tradition of studying gardens. And what is interesting is that art historians do this in many different ways, according to where they are and which tradition they belong to. Chinese art historians do this in a different way from other art historians in other countries, and this is why we need to get together.
Transcribed by Miao Yinan and edited by Sue/CAFA ART INFO
Related posts: