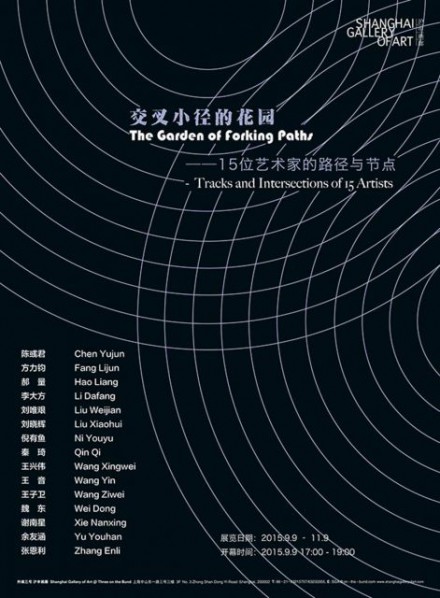 The title Garden of Forking Paths derives from Jorge Luis Borges' short story of the same title, in which Borges probed into the intricate interlinks between strict causal chain and non-linear space/time relation. To the protagonist, a Chinese man, the cruel and yet only option for him, quite unexpectedly, brought him to the window to a labyrinth of time and space. He carried out his original plan, but his choice in the labyrinth of time and space turned out to function differently. Choice means freedom. Borges cast insightful light on the overlapping and interplay between freedom and destiny, which drew readers' attention to the China that he imagined. Visual art is considered a cultural vehicle. Artists as individuals are inevitably embedded in the complex and multilayered big picture where social evolution and cultural mission are elaborately interwoven. Each artist attempts to establish the system of his own and to further broaden his path. During the process, tracks and intersections constantly emerge. And in the meantime, it's also possible that different artists may encounter the same intersection and then choose to follow different tracks. The various tracks and intersections collectively form an interconnected landscape of contemporary art, and artists bring their creativity into full play while they manage to break through the restrictions imposed by existent tracts and intersections.
It is in this regard that we think of simulating the non-linear space/time structure of Chinese contemporary art. The "Garden of Forking Paths" presented at Shanghai Gallery of Art will feature 15 artists of different generations and with different realms of interest, casting light on the interlinks and interplay among the tracks and intersections they encounter. Each of their path forms a unique space/time structure and it would be intriguing to probe into the difference as well as connection between all the different artists. By putting on display the different positions of the artists within the "garden", the exhibition intends to show viewers the evolution and development of the artists within their own space/time paths. Inside the gallery space, fifteen screen-like partitions are erected so that each artist would have one to present their works. On the two sides of each partition, works created by them in different times and under different states will be presented. In between the partitions, a labyrinth-like space featuring meandering paths is hence constructed and viewers could wander within the "garden", having a sense of the diversity in terms of time/space structure of contemporary painting. To highlight the unique charisma of the language of painting, difference in terms of age, generation and the use of media is taken into consideration while choosing participating artists in the hope that viewers would be led into an elaborate multilayered space of contemporary art.
About the exhibition
Dates: Sep 9, 2015 – Nov 9, 2015
Opening: Sep 9, 2015, 17:00, Wednesday
Venue: Shanghai Gallery of Art
Artists: Chen Yujun, Fang Lijun, Hao Liang, Li Dafang, Liu Xiaohui, Liu Weijian, Ni Youyu, Qin Qi, Wang Ziwei, Wang Yin, Wang Xingwei, Wei Dong, Xie Nanxing, Yu Youhan, Zhang Enli
Courtesy of the artists and Shanghai Gallery of Art, for further information please visit www.shanghaigalleryofart.com.
Related posts: