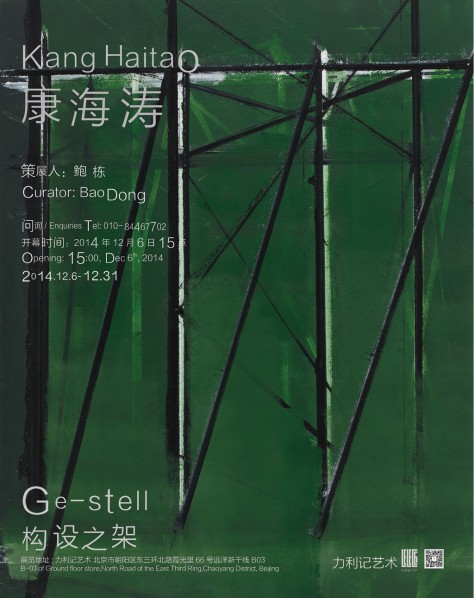 Lelege Art will present "Ge-Stell: Recent Works by Kang Haitao", which is curated by independent curator Bao Dong and opening on December 6, 2014. This is the first retrospective of Kang Haitao's abstract works.
Kang Haitao has held three retrospectives in Beijing and Hong Kong; the topics were mainly about night landscape. The current retrospective is Kang Haitao's first abstract works retrospective. There will be nearly 20 of his abstract paintings on display.
Today, people customarily regard Kang Haitao's Ge-stell works as "abstract" painting. Nevertheless, it is worthy of note that there is a difference between "'abstract' as a style"and"'abstract' as an'-ism'". The former is an art category in people's mind, while the latter is a scrupulous narrative of art history. In China, abstract-ism does not occur in the narrative of art history, but this aspect does not prevent people from using an "abstract" concept when trying to interpret the works of various artists, i.e. Kang Haitao's Ge-stell paintings.
Close observation reveals that Kang Haitao's "abstract" works have in fact evolved from his realistic paintings. He has separated the elements of style and method from realistic objects, compressed colors and forms, yet at the same time, retained other features in his "night scenes" series, i.e. the sense of space and translucency, as well as the dark background. This distinctive trait is especially apparent in his work done on cardboard. The sense of translucency created by a thin layer of paints and the atmospheric translucency of the "night scenes" series are identical, demonstrating an unspoken harmony. What is more, Kang Haitao, in the course of his workday, will work on both his "night scenes" series and "abstract" series. They compliment and accord with one another, jointly accomplishing a sense of satisfaction with existence.
The contours of these works are often both simple lines as well as brushwork style. They cover the surface of the work and overlap to form a spacial correlation. From time to time, they create a sense of depth due to visual illusion. Moreover, his contours are arranged so as to produce a contrast between light and darkness. In this manner, Kang Haitao's works are very different from the "abstract-ism", as found in the art history narrative, because he does not care to include the planarity and nonfigurative traits favored by abstract art. Often, Kang Haitao even goes so far as to intentionally halt the painting composition in a pre-imagery state, and employ a literary title as a means to imply the image of his painting.
About the artist
Kang Haitao was born in Chongqing in 1976, and graduated from Oil-painting Department of Sichuan Fine Arts Academy in 2000. He is one of the most outstanding of Chinese post-70s artists. Since his graduation in 2000, night landscape works and abstract works have become the main topics of his paintings, and both were shown in the his exhibits alternately. The night landscape works make Kang Haitao to be known as "the night of the hunter". Meanwhile, abstract works make Kang Haitao "into the nothingness". Many of his paintings of these two types were collected by famous galleries and collectors.
About the curator
Bao Dong is an art critic and independent curator. Since 2002, he has been committed to curating exhibitions, researching art history and criticism of writing. In September 2014, Bao Dong was nominated for the independent view of curatorial award by the Independent Curators International (ICI), and he was the only Chinese curator among the 15 nominees.
About the exhibition
Exhibition: Ge-Stell
Curator: Bao Dong
Time: Dec 6, 2014 – Dec 31, 2014
Opening: 14:30 pm, Dec 6, 2014
Venue: Lelege Art
Address: Room B-03 of Grand floor store of Yuanyang New Express Building, North Road of the East Third Ring, Chaoyang District, Beijing
Courtesy of the artist and Lelege Art, for further information please visit www.lelege.cn.
Related posts: