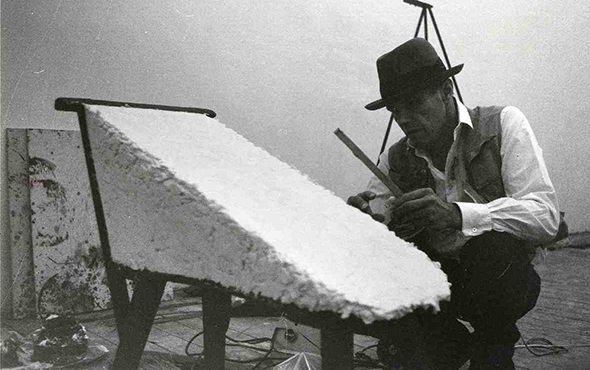 With the start of the seven galleries and seven exhibitions of DEUTSCHLAND 8 as well as a series of academic seminars, the concept of DEUTSCHE KUNST IN CHINA gradually was realised for a Chinese audience. Under the framework of the 45th anniversary of establishing China-Germany diplomatic relations, this cultural-exchange event has been the greatest presentation of German art in China after World War II. DEUTSCHLAND 8 can be traced back to CHINA 8 which was held simultaneously in the 9 museums of 8 cities in Rhein-Ruhr, Germany in 2015. The transition from CHINA 8 to DEUTSCHLAND 8 is not merely a simple introduction to the contemporary arts in these two countries; instead, it provides a platform for an in-depth exchange between Chinese and German culture. After the World War II, what German art left for Chinese audience was not only be a long list of great artists, but a deep reflection: how will a war-torn great nation retrieve its cultural discourse right after so many devastating sufferings?
Both Germany and China can be regarded as nations with distinctive cultural features. Their cultural origins are embodied in the forms of art. World War II bombarded many cities into ruins, leading to the shutdown of multiple academies of art, museums and galleries and the loss of a great number of artists. However, 20 years later, the economic recovery in West Germany has brought it back as a strong economic power, thus providing new opportunities for the development of art. Joseph Beuys was considered "the first artist to confront Fascism and the Holocaust and make them the themes of avant-garde art." His artistic ideas and practices all reveal a new form of social politics and culture, exploring new possibilities for German art. The far-reaching impact Beuys had in China even surpasses his influence in Germany. For instance, China/Avant-Garde was held in the National Art Museum of China in 1989. It was initiated by a number of artists such as Gao Minglu, Fan Dian and Zhu Qingsheng. This unprecedented exhibition received a great deal of attention from both home and abroad. From the perspective of the initiator Zhu Qingsheng, the 1989 exhibition was designed to "surpass" Beuys, who was believed to "represent an age" for contemporary artists in China.
In late 1960s, the western society was dominated by the cultural trends of American mainstream arts like pop art and abstract art, which exerted an impact on European traditional paintings. Against such a backdrop, speculative and reflective Germans initiated heated debates over philosophy and sociology: What is art? What is art capable of? What's the future of art? The post-war German art mingled into several forces under the mixed influence of multiple factors like philosophical ways of thinking, the connotation of German spirit, profound historical reflection and realistic criticism as well as the collision of international cultures. The development path of all these arts will be exhibited in a systemic manner at this DEUTSCHLAND 8 exhibition. We will be able to either watch the masterpieces of German Neo-expressionism artists such as Georg Baselitz, Anselm Kiefer, Markus Lüpertz and Jörg Immendorf in the hall Trace of Memories-Contemporary Paintings of Germany in the Imperial Ancestral Templeand the hall Rules of Art-Contemporary Art of Germany in CAFA Art Museum, or appreciate the charm of German Informel Art in the Red Brick Art Museum.
German Neo Expressionism, born in the 1980s, emphasizes the bold self-expression of artists and reverts to traditionalism in terms of pictures, emotions and brushwork. Compared with early Expressionism, neo expressionism focuses more on integrating political and social criticism into artistic works, with a profound sense of history. For example, the master of Neo Expressionism Anselm Kiefer boldly wore a Nazi uniform and postured the Hitler Salute in his early work on Occupations; the attic was filled with the names of German historical figures in Germany Spiritual Hero, the symbolic desolate landscapes and fields, the ruins of tyranny buried under snow and bomb debris, all these tendencies were closely related to German people's historical introspection after World War II.
The French term Informel Art enjoyed much popularity in most European countries including Germany after World War II. Free from previous restrictions of abstract form, Informel Art created a new painting style by replacing lines with impasto colour blocks, inheriting Greenberg's definition of line drawings. That was also the essential feature of Abstract Expressionism. To some degree, German Informel Art was influenced by American Abstract Expressionism, but it was true that it gave a new definition to the concept of Abstract, which represented an inclusive attitude towards painting and a deviation from traditional forms and techniques. "What's the reason for developing Informel Art?" Peter Iden, a German art critic and former curator of Frankfurt Museum of modern art, believing that it was a resistance against "mass culture" by German people. For most Germans, it was the "mass culture" movement that destroyed their country so German Informel artists were dedicated to developing a "totally different art". Either Neo Expressionism or Informel Art was a reflection of an highly personal breakthrough and an independent language form of German artists.
In addition, DEUTSCHLAND 8 also exhibited Germany's achievements in the modern new media image with the theme of "The Language of Photograph – Düsseldorf Academy" in Beijing Minsheng Art Museum and "Frozen Time – German New Media Art" in the Today Art Museum. With regards to the first theme, Dusseldorf School, especially the pioneering work of Bernd & Hilla Becher, led to a fundamental revolution to Germany's photography world in 1980. From a recording tool to a conception means, the status of photography has greatly improved; the latter theme focused on the development path of Germany's media arts. As the first country to establish the Centre for Art and Media, Germany has an indisputable predominance with its distinct philosophical and cultural origins in the field of new media. Born in the 1990s, new technical means are different from paintings and sculptures in traditional art. China is synchronized with western countries in terms of conceptual photography, image and digital art. However, Germany boasts its own unique features in the media image, such as the conceptual machine aesthetic tendency, which is likely to be influenced by machine aesthetics proposed by the German philosopher Benjamin.
There is no doubt that German art has exerted far-reaching influence on Chinese art, from Käthe Kollwitz's concept of engraving introduced into China by Lu Xun in 1930s, to Expressionism, Neo Expressionism, Abstract Art, Bauhaus design philosophy, etc. In the late 20th century, a great number of Chinese artists, like Tan Ping, Ma Lu, Miao Xiaochun, Zhou Chunya, Xu Jiang, Zhang Guolong, Li Di, Ren Rong and Qiu Anxiong, went to study in Germany and spread Germany's modern artistic ideologies in China. Starting from learning and imitation, the artists have persisted in innovation for decades, and managed to become the mainstay of Chinese contemporary art by coming into their own. The history of cultural exchanges between China and Germany can be traced back to 17th century when German scholar Leibniz was studying Chinese culture. Even in modern times, Chinese freehand brushwork is considered to be a source of inspiration for Informel Art. As for contemporary cultural and artistic exchanges, President of China Central Academy of Fine Arts Fan Di'an pointed out that there is still an "academic deficit" between China and Germany. Conceptions between Chinese art in Germany and many other western countries are still limited to traditional Chinese paintings or some works with a strong political criticism that caters to a western taste. Many foreign scholars may ask themselves: "Is there any contemporary art in China?", That is what makes cultural exchange projects like DEUTSCHLAND 8 and CHINA 8 even more important.
It is worth noting that "The Future Generation – Contemporary Youth Art in Germany" held in the White Box Art Museum exhibits the works created by a new generation of German artists influenced by the post-war art in Germany. Mostly born after 1970s, they are familiar with the profound history and artistic techniques and conceptions of Germany. Globalization has apparently eliminated the cultural and geographic gaps between Chinese and Germany youth artists. Therefore, the special exhibition of youth art in DEUTSCHLAND 8 represents a real-time, equal and on-spot experience for the Chinese art world and young artists in China. Chances are that artists will not be divided by countries in the near future. Instead, they will assume shared responsibilities towards the future.
DEUTSCHE KUNST IN CHINA is not merely a review of post-war art in Germany or tributes paid to German masters. What matters most is that such profound cultural exchanges and interactions endow art with a kind of potential unpredictable power. Just as Professor Zhu Zhengqing of Peking University said, What DEUTSCHLAND 8 has impressed us is not the fact that it comes from Germany, but how a great nation could take advantage of art to make human spirits shine under whatever hardships or even in times of calamity.
Text by Zhang Yanzi/ Courtesy of CAFA ART INFO
Related posts: