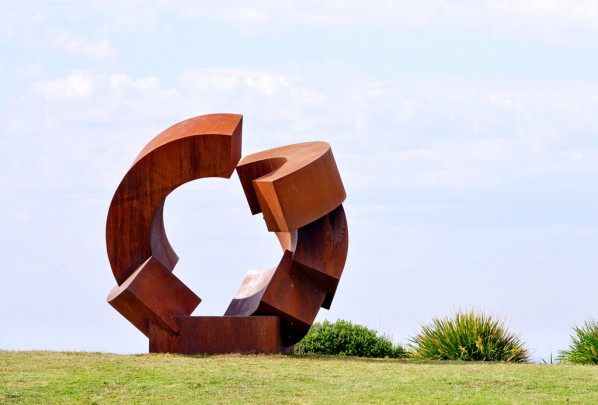 This year's exhibition of Sculpture by the Sea transforms the breathtaking Bondi to Tamarama coastal walk with 107 sculptures by artists from 19 countries. The exhibition is free to the public and runs from Thursday 22 October until Sunday 8 November 2015. Deputy Premier Troy Grant announced Jörg Plickat from Germany as the recipient of the $60,000 Macquarie Group Sculpture Prize for his sculpture divided planet at the launch of the 19 th annual Sculpture by the Sea, Bondi. The $60,000 acquisitive award is the most generous annual sculpture prize in Australia and provides a considerable boost to the artist's career. The award-winning sculpture will be installed at Headland Park, Georges Heights Mosman, joining Stephen King's fallout (2013) and Peter Lundberg's ring (2014), that were previously gifted by Macquarie Group for permanent public placement.
Mr Grant said, "The NSW Government is proud to support Sculpture by the Sea, Bondi. This event embodies excellence in the arts while incorporating scenery quintessential to Sydney, in one of the greatest displays of public art in Australia. "Jörg is an outstanding winner and it goes to show persistence pays off, on this his third Sculpture by the Sea appearance."
Plickat was chosen by this year's judging panel:
– Geoffrey Edwards Director, Geelong Gallery and former Senior Curator Sculpture &
Glass, National Gallery of Victoria;
– Sasha Grishin AM, FAHA Emeritus Professor, Australian National University
Canberra, Art Historian, Art Critic, Curator; and
– Clara Hali Sculptor & Lecturer in Sculpture, National Art School, Sydney
Jörg Plickat was at Bondi to receive the award for his large scale geometric work fabricated from corten steel and installed on the ridge at Marks Park. Working since 1980, he is a leading international sculptor who works predominantely in natural stone, bronze and corten steel. To date, Plickat has participated in more than 350 exhibitions worldwide and created and installed more than 85 public sculptures across four continents.
His awarded work,
divided planet
is a statement of lament at the wasted energy of political leaders who fail to overcome their differences, rather than uniting to address urgent human and environmental catastrophes such as poverty and global warming. Macquarie Group Deputy Managing Director, Greg Ward, said: "On behalf of Macquarie Group, I'd like to congratulate Jörg. Sculpture by the Sea, Bondi has become a true institution in Sydney's arts and community calendar and we are proud to support this iconic event which makes the visual arts accessible to all."
"Congratulations to Jörg on a magnificent piece," said Founding Director of Sculpture by the Sea, David Handley, "Each time Jörg has exhibited at Sculpture by the Sea, Bondi his works have stood out. It is wonderful to see a German artist has receive the major award for the first time." "Thank you Macquarie Group for sponsoring this acquisitive prize and gifting it to the people of Sydney."
Additional award recipients was officially announced on Friday 23 October at the Sculpture by the Sea, Bondi 2015 Opening Night Party at Centennial Parklands Dining, Centennial
Park, Paddington. Awards announced on the evening are:
– Waverley Council Mayor's Prize of $5,000
– The Macquarie Group Sculpture Inside Prize of $5,000, as chosen by Julian Beaumont OAM
– The Andrea Stretton Memorial Invitation of $5,000 to exhibit in Sculpture by the Sea, Cottesloe 2016
– Art Gallery Society of NSW Prize of $5,000 donated by the Art Gallery Society of NSW, as chosen by Deborah Edwards, Senior Curator of Australian Art, AGNSW
About Sculpture by the Sea
Sculpture by the Sea is a series of exhibitions presented at Cottesloe Beach in Perth, Western Australia from 6 – 23 March, 2014 and Bondi. Sculpture by the Sea, Bondi began in 1997, as a one-day exhibition run by volunteers featuring works by 64 artists and attended by 25,000 visitors. Since then, the event has grown to become the largest annual sculpture exhibition in the world featuring numerous esteemed international artists and enjoyed by an estimated 500,000 visitors over 3 weeks.
Courtesy of Sculpture by the Sea, for further information please visit sculpturebythesea.com or contact info@nixco.com.au/+61 2 8399 0626
For images http://bit.ly/1MDFUke
For interviews: Ioni Doherty
M: + 61 414 742 292
Email: ioni@nixco.com.au
Kat Remy
M: +61 412 977 267
Email: kat@nixco.com.au
Related posts: