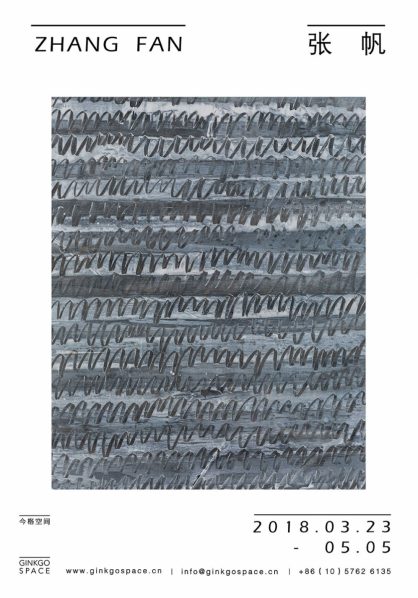 Ginkgo Space will host the first solo exhibition of artist Zhang Fan on March 23rd, 2018. The exhibition "Zhang Fan" will present the artist's creative practice in these years. It will continue until May 5th.
Zhang Fan was born in 1975 in Qingdao, Shandong Province. He received his Bachelor's Degree (1998) and Master's Degree (2002) from the Department of Printmaking in Central Academy of Fine Arts, China. Now he lives and works in Beijing. His new works "Improvisation" embody the idea that the gestures present in "writing" are reflected directly by the traces of lines on the tableaux. Traces originating in the most primitive gestures of writing rapidly give the work a coordinated sense of rhythm, detail, texture and emotion. These elements instantaneously emerge in the process of "writing" and the artist's task is to seize opportunities and make them inevitable – what we see in his paintings is the outcome.
This exhibition will also showcase the artist's past representative works. In his practice, Zhang has always tried to make the solemn entirety and the slightest objective details as themes of painting. In his early works, he made a "solid" expression of the "imaginary" in Chinese traditional culture: repeated but distinct lines dissolve on the tableaux, undulating and profound, subtle in the Chinese way. His solo exhibitions were held in various organizations, such as the Today Art Museum, the Yuan Art Museum and the One Moon Art Gallery.
About the exhibition
Opening: 3pm, March 23rd, 2018 (Friday)
Dates: March 23rd – May 5th, 2018
Address: #65, 798 Art District, No.4 Jiuxianqiao Rd., Chaoyang Dst., 100015, Beijing, China
Venue: Ginkgo Space
Courtesy of the artist and Ginkgo Space, for further information please visit www.ginkgospace.cn or contact with info@ginkgospace.cn, +86 10 5762 6135.
Related posts: