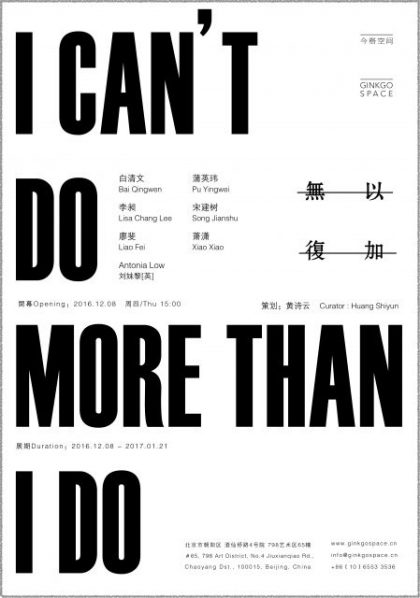 Ginkgo Space is pleased to present the winter group exhibition: I Can't Do More Than I Do. The works are created by Bai Qingwen, Lisa Chang Lee, Liao Fei, Antonia Low, Pu Yingwei, Song Jianshu, Xiao Xiao, ranging from installation to video to independence publication.
In a time of abundant materials and overloading concepts, all discussions about scarcity are premised on sufficiency. We live in the 'Land of Cockaigne' where plenty enables effortless ways of living and has become today's reality. It's easier to get instant results when one raises the subject of scarcity in a world full of rich materials; it's more challenging and exciting to address the subject of sufficiency or even redundancy – a state of 'I can't do more than I do'. Today, by raising conjectures on sufficiency and 'I can't do more than I do', the exhibition expects revolutionary practices.
'I can't do more than I do' implies actions of arbitrariness, extravagance, abuse or addiction, a moment at which the result misses the ideal, a state of exceeding boundaries. While I Can't Do More Than I Do raises the following issue: in the creative process, the creator repeatedly interrogates and deliberately presses on towards the endpoint and boundaries of artistic expression and depiction. This can be viewed as the frank confession of the artist after exhausting both the use of material resources and his own capabilities. It means that the artist remains cautious and skeptical while advancing bravely and directly towards the final ends, to avoid the pitfalls of indolence and arrogance. The so-called destinations and boundaries could result from blind spots of one's intellect or insight. When the creator ventures to these shadowed, dubious or even perilous zones, he will be forced to switch to a new sensory system, to interrupt routines, and query how to raise new questions and open up possibilities.
I Can't Do More Than I Do is an active escape from dull impulses, routines and collective unconsciousness of the entire industry; thus, it is restrained, cautious and rebellious. It makes a crucial decision, at the point where energy reaches maximum, to try to make hesitant statements and sidestep the subjects; to experiment with absenting attention or even to contradict oneself; to attempt to not do something when it can be done, and to not exhaust potential. This is a status of 'to not' that revives the artworks as live scenes of interrogation, and generates sincere concern from deep within, allowing a state of unexpected breakthrough to emerge.
About the exhibition
Dates: Dec 8, 2016 – Jan 21, 2017
Opening: Dec 8, 2016, 15:00, Thursday
Courtesy of the artist and Ginkgo Space, for further information please visit http://ginkgospace.cn/cn.
Related posts: