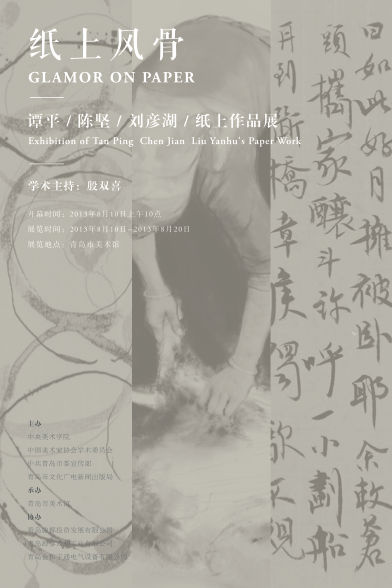 It's very meaningful that a group exhibition of Tan Ping, Chen Jian and Liu Yanhu is held in Qingdao Art Museum. The three artists' trajectories have rarely intersected, instead, they often deeply explore their own professional direction as accomplished artists. There's a common ground between them as they all have studied and even taught at CAFA, the most important art college in China. For over one hundred years, CAFA has accumulated an academic tradition of "expanding the micro and the extensive", learning of the advantages of different things, heavy heritage and tiny displays, which offers them immeasurable artistic influences.
Liu Xie wrote in the The Literary Mind and the Carving of Dragons that "The Changes of text depend on the current social situation, the rise and fall according to timing". It suggests that "ink changes with the era", reflecting an eternal truth for art so that innovation is a way of inheritance. Although the media and artistic expression used by the three artists are different, as the "art on paper" is deeply associated with traditional Chinese culture and the spirit of the literati, their works reflect not only the modern "literati art" from profound accumulation, but also contemporary visual art filled with interesting concepts. In other words, their arts reflect a "glamor on paper", which is the glamor of the Chinese literati, including artistic style and charm, as well as the backbone and spirit of modern intellectuals that deny joining in trends.
Freedom creation and integration of hand and mind of the three artists reveals the human warmth, and gives us a new visual experience. The daily life is increasingly getting away from the traditional values of the literati, rapidly getting into an economic utilitarian world, where the three artists are trying their best to find real inner experiences, expressing the interpretation of the individual spirit and survival state, as well as cultural role in modern society. They are concerned about society, human nature and culture, and regard art as a meaningful result for humans to freely explore, creatively choosing the expressive way to meet their personality and intelligence, proving that it's possible to create a spiritual world beyond reality.
Yin Shuangxi, art critic, Professor of the Central Academy of Fine Arts, PhD Instructor
July 26, 2013
About the exhibition
Title: Glomor on Paper – Exhibition of Tan Ping, Chen Jian, Liu Yanhu's Paper Work
Artists: Tan Ping, Chen Jian, Liu Yanhu
Opening Reception: 10:00 pm, August 10, 2013
Duration: August 10 –August 20, 2013
Venue: Qingdao Art Museum
Translated by Chen Peihua and edited by Sue/CAFA ART INFO
Related posts: