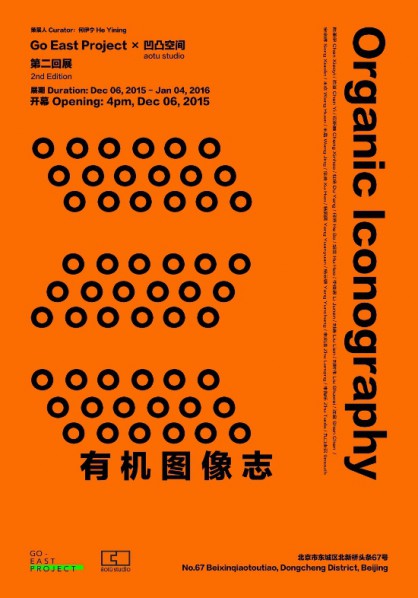 Started in January 2014, the Go East Project is a comprehensive art platform aimed at introducing contemporary Chinese photography to the western countries through various forms including blogs, exhibitions and publications. It encourages Chinese young talents to discover social issues in our daily life and explore the infinite possibilities of photography.
The blog project (www.goeastblog.com), published in English, offers updated news about contemporary Chinese photography to western audiences on a weekly basis. It also covers interviews, book reviews and features covering all areas. The Go East Project is now running a column under ZUI Found magazine, presenting a wide range of contemporary photographs related to social issues to readers.
Introduction of 'Organic Iconography'
In the upcoming "Organic Iconography" exhibition held at Aotu Studio in Beijing, the curator has selected various photographs from 19 new-generation photographers. These photographs come from different series, and are created by various authors with diverse logics. What they share in common is that none of these photographs are direct representation of the reality itself. Instead, they try to construct a new type of reality through cutting, composing and imagining, a reality which refers to the photographs themselves.
When these photographs are displayed in the same space, the constructed reality collapses into pieces as its natural and direct counterpart. However, these pieces, which can be seen as morphemes that have lost the possibility to present complete meanings, build up a new surface of reality according to their inherent logics (and locations in a certain space) by interacting with other photographs. This way of reconstruction is like the self-assembly process performed by molecule in solutions – merely relying on the iconographic nature of the independent images, without the external intervention – a self-reconstruction into an ordered complex. This exhibition aims to present such possibility of organic growing in icons.
Discussion
This year marks the 100th anniversary of the birth of the French thinker Roland Barthes. In the afternoon of the exhibition, a reading club will be held to discuss Barthes's book Camera Lucida. Photographers from different fields are welcome to join the discussion.
Camera Lucida reading session: 2 p.m., December 6, 2015
Chair of the reading session: Hu Hao, a graduate student of aesthetics in Renmin University
About the exhibition
Curator: He Yining
Artists: Chen Xiaoyi, Chen Yi, Cheng Xinhao, Du Yang, He Bo, Hu Hao, Li Junnan, Liu Lian, Liu Shuwei, Shen Chen, Song Xiaolin, Wang Huan, Wang Jing, Xu Hao, Yang Yuanyuan, Yang Yunchang, Zhu Lanqing, Zhu Taole, 9mouth
Exhibition Duration: December 6, 2015 – January 4, 2016
Opening: 4 p.m., December 6, 2015
Location: AOTU Studio (No. 67, Beixinqiaotoutiao, Dongcheng District, Beijing)
凹凸空间(北京市东城区北新桥头条67号)
Courtesy of the artists and Go East Project, for further information please visit www.goeastblog.com.
Related posts: