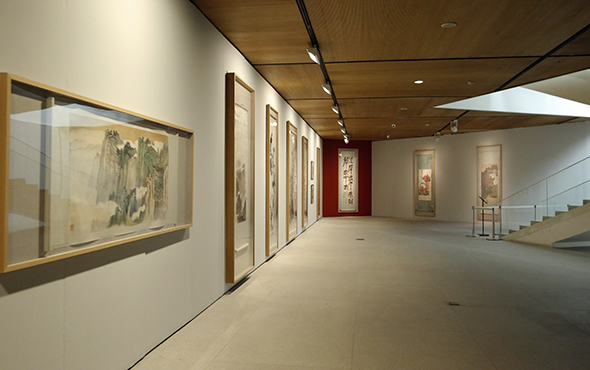 To commemorate the centennial celebration of CAFA, "Go With the Times: CAFA Centennial Celebration Exhibition", which is hosted by CAFA and organized by CAFA Art Museum, kicked off on the second floor of CAFA Art Museum on March 22, 2018. It features more than 140 classic works, covering traditional Chinese paintings, oil paintings, prints, and sculptures. Based on the collection from CAFA Art Museum, it has selected representative pieces created by the students & teachers from CAFA during different periods over the past one hundred years, such as the period of National Beiping Art School, the period of Lu Xun Academy of Arts in Yan'an, and the period of the establishment of New China, aimed at displaying the visual art forms during the innovative times of the 20th century by sifting through CAFA's history of art creations, to show the unique features of CAFA over the past 100 years.
The 20th century was cosmopolitan, with an unprecedented change over the times. China was also part of the change of the times, with political, economic and cultural changes which have never been seen before, while the artistic creation and art education of new modes have constituted a new visual system. The centurial history of Chinese art is also the history of changes and innovation of this new visual art. "Go With the Times: CAFA Centennial Celebration Exhibition" features works that have been vividly recorded and interpreted to include the historical developments and humanistic spiritual states in the 20th century. The preface of the exhibition states that, "In the course of crossing the one-hundred-year history, a large number of famous artists together with a large number of artistic classics appeared in CAFA, reflecting the excellent people-centered academic tradition that goes with the times, reflecting an outstanding academic style of persisting in cultural ideals and pursuing artistic quality which has set a benchmark for the development of Chinese fine arts and has also produced a wide range of social influences." From another dimension, it shows the relationship between CAFA and Chinese art history in the 20th century, as well as the history of modern art education.
The exhibition also receives support from many organizations such as the National Museum of China, the National Art Museum of China, Beijing Fine Art Academy and supporters. Many classic works collected by different institutions were returned to the exhibition of their alma mater.
"Go with the Times" is an important commemorative event during the 100th anniversary of CAFA. Each piece includes the enthusiasm of CAFA's people and their unremitting pursuit of art. Through this exhibition, it is not only a review of CAFA's solid footsteps over one hundred years, it also used works to display the centurial features of CAFA's people.
The exhibition remains on view till April 25.
Photo and text by CAFA Art Museum, translated by Chen Peihua and edited by Sue/CAFA ART INFO
Related posts: