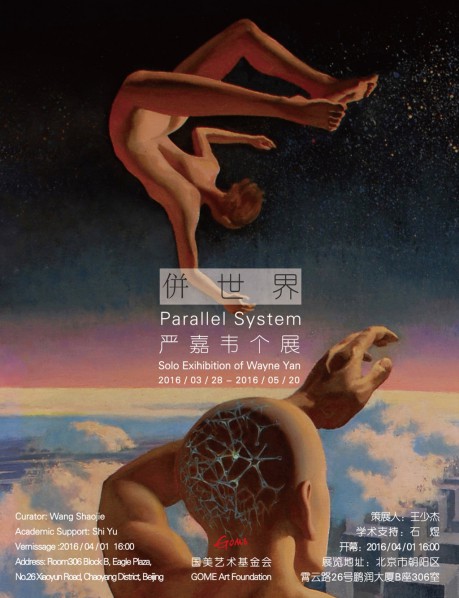 Parallel System
By Wang Shaojie
Michel Foucault once stated in Des Espaces Autres: "We are in an era of space". Space is an important source of life experience. The fighting for territories between nations, the complementation and conflict between private and public spaces, overlapping individual consciousness and the time, we are surrounded by spaces without knowing their forms or boundaries.
Since the years when Wayne Yan (Yan Jiawei) studied oil painting in CAFA, he has been enthusiastic about the mysterious relations between conscious space and physical space. He believes the connection between the two can lead us to an unknown truth.
His works visualize the artist's studies of space and he tries to lead the audience into a parallel system. "Memory about Stone Gate", "Night Falls", "Cross Worlds" are earlier works of Wayne Yan. The rolling-over world makes us conscious about the existence of space. Shanghai, the metropolitan where the artist was born, shows more uncertainty and silence in Yan's works. There are lines of buildings leading to the unknown and lonely walking souls. We see the artist's reflection about life and reality in these earlier works.
"The Door through Spaces", "Brian / Quantum" and "Mass vs. Space Series" show that the artist have turned to deeper understanding of space. The connection between acupuncture points and quantum shows us possibility of a mysterious parallel system. The floating human bodies observe the world where we live. These beautiful, transparent and isolated images of life reveal the perplexity of our existence. The artist cannot give a solid answer to the hope and doubt that we have for life. He asks questions: is there an intersection between the unknown space of our consciousness and science? Is the unknown space of our consciousness closer to the truth than science?
Wayne Yan tries to enrich people's understanding about space. He indulges in variety of art visual created by his artistic imagination. He doesn't consider schema as a philosophical graphic, nor does he fall into a loose sociological survey. The artist truthfully records his reflection and imagination and uses them to reorganize the space. His works makes us asking questions about where we are. We may all be attracted to the pure, perfectly ordered, vigorous "parallel system" that Yan constructs on canvas.
People are also touched by the sense of coldness in Yan's works. Anxious, lost, the young generation differs from their parents whose peek period is in 1980s and 1990s. Their helplessness and numbness are from the unwillingness to following a "given future", while their parents used to concern about the uncertainty bought by economic revolution. Wayne Yan's visual presentation of spirit space indicates his reflection on the current state of life of his generation. It also contains the artist's escape from reality and his persistent seeking of a spiritual paradise.
March, 2016
Parallel Thoughts
By Shi Yu
After graduating from the Oil Painting Department of China Central Academy of Fine Arts, Wayne Yan has been studying the relationship between thinking and visual studies. With powerful imagination and concerns about our social environment, he paints an exotic Utopian world, introduces the problems in realistic world into the brain of human beings and rebuilds a world of Quantum Mechanics.
Crowds looking upwards into the sky, endless lines of abandoned buildings, light and shadow, floating clouds, they symbolize the confusion, void of modern society in which people may find themselves lost. The earlier works of Wayne Yan is about the constant days and nights of urban life: zebra crossing symbolizes discipline, order, and safety within certain boundary. They are the causes of people's struggle and their eager of freedom.
In the last two years, Yan explores "multiplicity". This new concept sets the artist free in his creation. Yan has gone further in his personal interpretation of the world, which leads us to new ways of observing the world and helps the artist create his own artistic language.
2016.3
About the exhibition
Parallel System – Solo Exhibition of Wayne Yan
Organization: GOME Art Foundation
Curator: Wang Shaojie
Academic Support: Shi Yu
Duration: 2016/03/28 – 2016/05/20
Vernissage: 2014/04/01 16:00
Address: Room306 Block B, Eagle Plaza, No.26 Xiaoyun Road, Chaoyang District, Beijing
Courtesy of the artist and GOME Art Foundation, edited by Sue/CAFA ART INFO
Related posts: