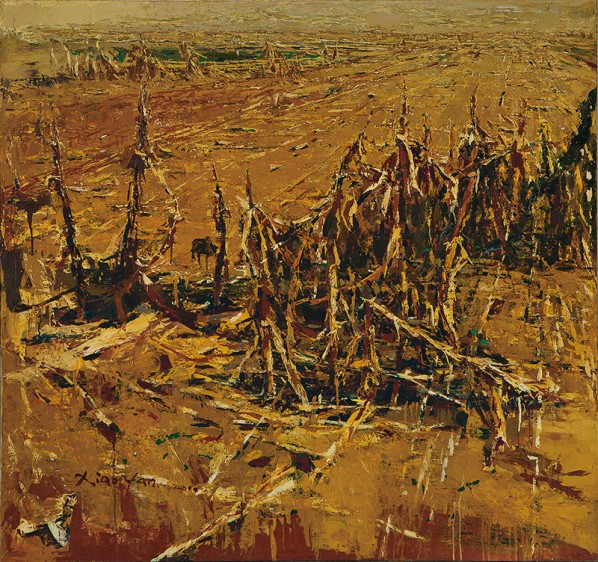 On July 19, 2014, "Grace in the Temporal: Xu Xiaoyan's Paintings and Her Times" opened at the Beijing Inside-Out Art Museum, more than 60 oil paintings were presented created by Xu Xiaoyan during her lifetime.
In the 1990s, like many other artists, Xu Xiaoyan together with her family came to the capital from her province, to start her dream of being a professional artist. "Grace in the Temporal" implied the time she lived in. After moving to Beijing, the surrounding environment rapidly developed and changed which deeply touched her, so that she passionately used thick colors and large-scale canvases, to paint several series of spectacular paintings which left her with the most beautiful sad memories of the times; through these paintings, Xu showcased her unique strength as well as the exquisite and charm of female artists. "The Big Wangjing" series of works are presented at the exhibition, allowing us to rethink how people and capital grab the resources of the land and nature; themed Caochangdi, "The Edge of the Zone" series of her paintings allow us to directly face the abandoned and distorted scenes in the process of modernization, so people are deeply stung by reality. She created the "Skin of the Earth" that revealed the heavy groan of the earth. "The Brilliant" series showcases pieces of a cornfield filled with vitality which proudly face the destruction in the romantic and bright afterglow, like playing a requiem, to comfort all uneasy souls of the times.
As "her times" told by Xu Xiaoyan in the painting, a large number of artists lived at the edge of the city like farmers who spent all their lives in forced migration. In the last 20 years, the live experiences of the artists who had migrated from Yuanmingyuan Artists Village to Songzhuang, Beigao, Caochangdi, Suojiacun, Cuigezhuang, Jinzhanxiang, Huantie and Heiqiao, is also reflected in a memorable developing history of Chinese contemporary art. It was a precious and real memory of the times that Xu Xiaoyan passionately and boldly conveyed through her canvas.
"Grace in the Temporal: Xu Xiaoyan's Paintings and Her Times" exhibition will continue to September 6.
About the Artist
Xu Xiaoyan(1960-2012) was born in Chengde, Hebei Province. After graduating from the Department of Fine Arts of Hebei Normal University in 1982, she majored in oil painting, she was assigned to the School for Children of Workers & Staff Members of Chengde Steel Mill to serve as a teacher. She was transferred to the Department of Fine Arts of Hebei Baoding Teachers School in 1987, and then moved to Beijing. Her works are in the collections of the National Art Museum of China, Shanghai Art Museum, Mountain Art Foundation Museum, Teda Contemporary Art Museum and private collectors at home and abroad.
Translated by Chen Peihua and edited by Sue/CAFA ART INFO
Photo by Inside-Out Art Museum
Related posts: