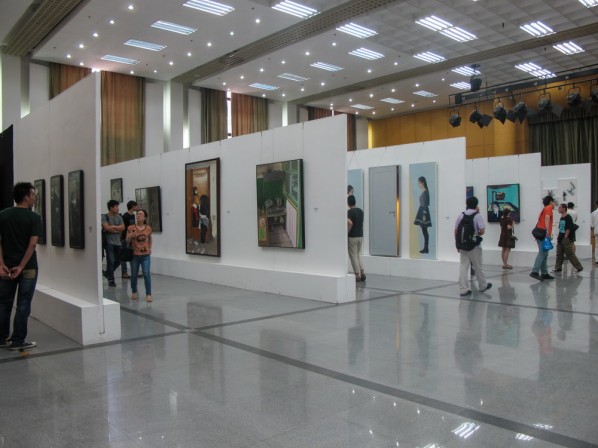 Graduation Exhibition of CAFA 2013 the Third Round: Departments of Oil Painting and Sculpture opened on May 30, 2013, which will remain on view until June 5. It features the works of the graduates from the Department of Oil Painting in Multifunctional Hall of Building 5, while those of the Department of Sculpture exhibiting at the underground exhibition hall. As one of the earliest teaching base, the Department of Oil Painting at CAFA, currently is composed of four Studios, Research and Teaching Studio of Foundation, Materials Performance Studio, and Postgraduate Studio, Implement of Teaching System Studio.
When interviewed by a journalist from CAFA ART INFO, Professor Xie Dongming said: Judging a work, we initially examine the professional foundation, in addition, it's worth encouraging that some students have some explorations, I am satisfied to the overall level of the graduates' works.
Graduation Exhibition of the Department of Sculpture 2013, features over eighty works by 36 graduates covered a variety of materials, forms and styles, comprehensively displaying overall level of the teaching of the Department of Sculpture, CAFA, a refreshing change to be taken seriously.
Since the establishment of the Department of Sculpture in the 1950s, it had developed three relatively clear directions: firstly, it gradually formed and perfected the teaching of socialist realist sculpture by learning the foundation art education from France and the former Soviet Union, based on which it went deep into excavating and inheriting the local traditional spatial languages of the five thousand years history in China; secondly, after the reform and opening up, on the basic of the understanding of the language of sculptural materials, it set up the teaching of modern materials, related to modern abstract language; thirdly, to establish the teaching of urban public art starting from sculpture, in response to the rapid development of urban construction in recent years.
In addition, from June 1 through to June 9, 2013, Graduation Exhibition of the School of Architecture will be on display in the 2nd, 4th, 7th floors of Building 7. Graduation Exhibitions of the Departments of Printmaking and Mural are about to respectively be on view at the underground exhibition hall and multifunctional hall, so stay tuned.
Text and photo by Yu Ya/CAFA ART INFO
Translated by Sophia and edited by Sue/CAFA ART INFO
Related posts: