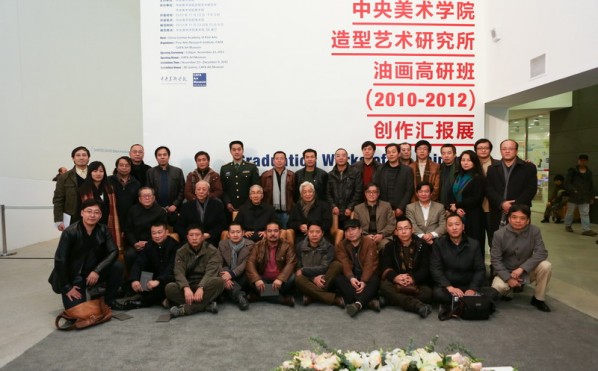 November 23, 2012 at 3:00 pm, the "Graduation Works of Oil Painting Research Workshop (2010-2012) Organized by Fine Arts Research Institute, CAFA" was inaugurated at the CAFA Art Museum.
Hosted by Prof. Ding Yilin who serves as the Deputy Director of the Institute of Plastic Arts, the opening ceremony invited Pan Gongkai, President of the Central Academy of Fine Arts, Gao Hong, Party Secretary of CAFA, Prof. Zhan Jianjun, Director of Institute of Plastic Arts, Jin Shangyi, former president of CAFA, Quan Shanshi, committee member of the National Art Committee, Zhong Han and other honored guests were present. Prof. Pan Gongkai and Prof. Zhan Jianjun addressed the artists and audience at the ceremony.
First of all, Pan showed his respect for the first group of artists such as Zhan Jianjun, Jin Shangyi, Quan Shanshi, Zhong Han and so on who have devoted themselves to the development of oil paintings in China ever since the establishment of People's Republic of China. He believed that the Oil Painting Research Workshop is as an important form of teaching in the Oil Painting Department has persisted for many years and will remain all permanently. This form of training has played an irreplaceable role in the cultivation of domestic middle-aged and young painters as well as their further improvement.
Zhan Jianjun also mentioned that this exhibition is organized in response to many artists and art workers engaged in art creation or teaching. There are 27 members in this workshop and they are very eager to learn. From the perspective of a tutor, Zhan hoped that this reporting exhibition would have outstanding works. In spite of the various situations such as their basic attainment, artistic accomplishment, etc, all of them have worked hard and made overall progress in various degrees.
The tutor faculty of Oil Painting Research Workshop was composed of Zhan Jianjun, Jin Shangyi, Quan Shanshi, Zhong Han and other professors, chaired by Ding Yilin. In the teaching process over the past two years, tutors had organized research lectures on drawing, painting, composition training, art history as well as various stages of the creative process. They personally led the students to major art museums from Europe to observe the original masterpieces, thus promoting the cultivation of their comprehension of painting language and creativity.
The participating artists ranged in age from 30 to more than 60 and their exhibiting works not only convey the heritage of noumenal language of traditional oil painting, but they also pour into the innovative elements. With a variety of styles such as modernist expressionism by Chen Shudong and traditional realistic style by Li Xiaogang; a wide range of topics such as the simple primitive sense of remote Tibetan life portrayed by Yu Changnong and the delicate texture of the mental state of urban white-collar workers presented by Wang Hanying; forms full of changes such as fresh and smart literati works by Liu Changyi as well as the magnificent twenty-meter wide work of "Nine Songs" by Wang Lei. This provides a great opportunity for the audience to observe the joint efforts of tutors and students over the past two years.
It is reported that the exhibition will be on view at CAFA ART Museum until December 9, 2012.
Text by Gao Sisi/ CAFA ART INFO
Related posts: