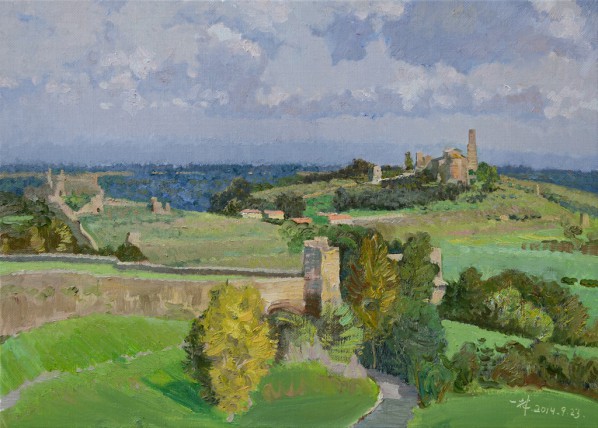 The exhibition "Italy Seen by Chinese Artists' Eyes" jointly held by the Museo Nazionale d'Arte Orientale, Alesssandro Kokocinski Foundation and "Ponte" Rome International Artists Association, will inaugurate in Museo Nazionale d'Arte Orientale in Italy on May 9th, 2015. The exhibition is supported by the region Lazio, Rome Town Hall , Viterbo Town hall and Shanghai International Culture Association.
The "Grand Tour", originated in Europe and lasted for three hundred years, had a connection with the Britain Royal Family at the very beginning time. It gradually had an influence on culture and art and became a cultural phenomenon. Many masters joined in the "Grand Tour": Goethe, Byron, Gogol, Balzac, Dostoevsky, Mozart, Mendelssohn, Serov, Repin, Klimt, Tomas Mann and Woolf, whose masterpieces constitute the cornerstone of the European contemporary culture and art (Museo di Arte Contemporanea di Roma and the Winter Palace of Russia both have special exhibition spaces for the Grand Tour).
Despite its three-hundred-year history there was no trace of Chinese in the record of the Grand Tour. In order to gear to the international culture convention and show respect to the home of the patrimony of Europe, the Chinese artists have finished their "Grand Tour" travel of painting and creating in Italy for the first time. This plan was promoted by Zhou Zhiwei, Liu Manwen, Han Bin and Shanghai Hanyi Culture Communication Co. Ltd. It will be a historic beginning of the communication between China and Italy and also the new start of the "Grand Tour" for the Chinese artists.
This exhibition contains two sections: one section exhibits oil-paintings and watercolors of European painters who joined the "Grand Tour" from 17th to 18th century and the other exhibits the paintings finished by Chinese artists Wang Weixin, Ding Yilin, Zhou Zhiwei, Liu Manwen and Yin Xiong in Italy and their studios. Seventy exhibits will be on show. The exhibition, as one of the important plans of Museo Nazionale d'Arte Orientale in 2015, will last till the end of July.
Wen Qing
March 24th, 2015
Courtesy of the artists and Museo Nazionale d'Arte Orientale, image captions translated by Chen Peihua and edited by Sue/CAFA ART INFO.
Related posts: