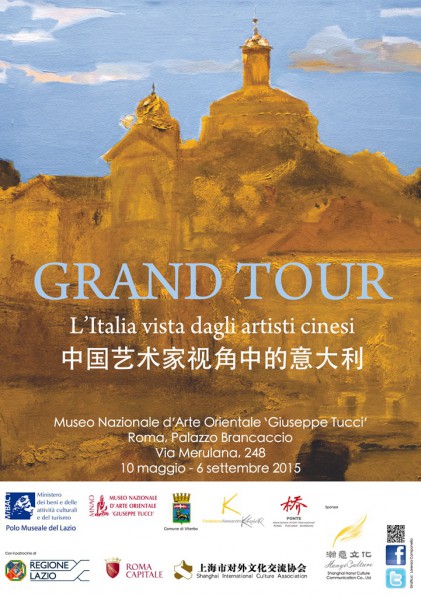 At 5 pm on May 9th 2015, the exhibition "Chinese artists' perspective of Italy" opened in the National Museum of Oriental Art in Rome, Italy. This exhibition was co-hosted by the National Museum of Oriental Art, FONDAZIONE A&mi, the municipal government of Viterbo and the international artists association "Bridge". It also got support and sponsorship from some other Italian and Chinese organizations, such as Region Lazio, the municipal government of Rome, Shanghai International Culture Association, Shanghai Hanyi culture communication Co. LTD., etc. It is a special cultural exchange activity between China and Italy.
The exhibition was planned by Italy's National Museum of Oriental Art since 2014, consulted and negotiated by Dr. Maria Luisa Giorgi, Dr. Roberto Ciarla and the activity promoter Zhou Zhiwei. On the basis of careful study of works in the history of the Grand Tour, artistic experiences and the works of the five Chinese artists, the exhibition probed into the relationship between pavilions and artworks from various angles. The exhibition consists of two parts: first, the 17th- and 18th-century collections of Grand Tour; second, more than 50 works by five Chinese artists Wang Weixin, Ding Yilin, Zhou Zhiwei, Liu Manwen and Yin Xiong, which were completed in September and October 2014 in Italy.
In the 17th century, there was a cultural trend of traveling to Italy and exploring the culture and art of ancient Greek and Roman. Young people from all over the Europe traveled to this beautiful land of central Mediterranean, feeling the nature and art, and thus gave birth to the Romantic culture and formed a tradition of cross-national cultural tours. In the past, some famous figures have taken part in the Grand Tour, such as François-Marie Arouet, Johann Wolfgang von Goethe, George Gordon Byron, Honoré•de Balzac, Fedor Mikhailovich Dostojevski, Thomas Mann, Virginia Wolf, Wolfgang Amadeus Mozart, Jakob Ludwig Felix Mendelssohn Bartholdy, Hector Louis Berlioz, Joseph Mallord William Turner, Jean Baptiste Camille Corot, Edgar Degas and so on. Their works have become the cornerstones of the modern European culture and art.
The promoter of this activity, Zhou Zhiwei points out, "artists should re-examine the relationship between art and nature", and advocates the concept of "art returns to nature", which is in line with the spiritual kernel of the Grand Tour that has a history of more than three hundred years in Italy. The five Chinese artists are scholars who engage in western painting creation and research, cherishing deep emotions and respects to the traditional culture of Italy. Their sketches, communication and exhibition in Italy highlight the spirits of the Grand Tour, realizing and completing the dream of all parties.
Italian art historian and art theorist, Renato Mammucari wrote in the exhibition's preface: "today, we have five Chinese artists; thanks to their particular sensitiveness and great professional skill they have been able to see Italy as a predestined place where 'the soul gets lost', a place where, particular in Rome, even 'the stones speak'. The works of these five artists are fruits of their hands, but the hands are only tools by which they express their inspiration. Technique alone, however precise and accurate, could not grant painted compositions such as those created in this last Grant Tour. These paintings capture the viewer's feelings even before their eyes, so full they are of passion. These five artists lead us by the hand in the reading of the images that allow one another at a close rate, with short titles that, like windows, give light to those fragments of life that wait for nothing else than to be brought into focus, making possible for the words to be turned into iconography and for the images to became words. Their work should be considered as a 'tracking shot' of the visions that struck their art, something like thoughts written in transparency, to be read in filigree."
The opening ceremony of "Chinese artists' perspective of Italy" exhibition was an unprecedented grand, and more than 300 guests attended the event, many of which are scholars and celebrities from different fields of Italy. The exhibition will last until mid-September 2015, and it was listed as one of the important art activities of Rome in May 2015.
This "Grand Tour" cultural tour was sponsored by Shanghai Hanyi culture communication Co., LTD. And the book "Chinese Artists' Perspective of Italy" will be published by Shanghai People's Fine Arts Publishing House.
WEN Qing
June 12, 2015
Courtesy of the artists and CAFA ART INFO
Related posts: