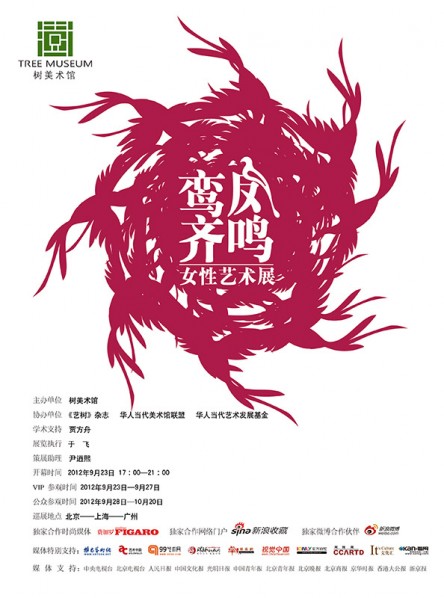 September 23, Tree Museum in Beijing announced the opening of the group exhibition entitled "Chorusing of Phoenixes" featuring contemporary women's art in China. Organized by Tree Museum, this exhibition is sponsored by Arts Tree Magazine, the Chinese Museum of Contemporary Art Alliance and Chinese Contemporary Art Development Fund co. Academically presided over by Jia Fangzhou, it is curated by Yu Fei.
This exhibition brings together 41 female artists who represent contemporary Chinese art, including: Chen Wei, Chen Yun, Chen Xi, Cai Jin, Cui Xiuwen, Fan Xi, Feng Jiali, Guo Yan, He Weinan, Hu Mingzhe, Huang Ying, Jiang Jie, Lei Shuang, Li Geye, Li Guanguan, Li Tingting, Li Zi, Liao Xiao, Lin Jingjing, Lin Xin, Lin Yan, Liu Liyu, Liu Liyun, Liu Xiuming, Nabuqi, Peng Wei, Qu Qianmei, Tao Aimin, Wang Tiantian, Wu Didi, Wu Di, Wu Yang, Xiang Jing, Xu Qi, Yang WEnping, Ye Funan, Yin Xiuzhen, Zhang Jing, Zhang Yanzi, Zhao Biqin and Zhao Yinan. From the generation from the 50s to after the 80s, it presents a fundamental outlook on Chinese women's art and is another major exhibition of female arts after the centurial exhibition of Women's Art in 1998.
Luan Birds together with Phoenix have been taken as the symbols of women in ancient Chinese elements for its extremely oriental flavor. Via the "tree", it leads to the chorusing of Luan Birds and Phoenixes, highlighting the basic characteristics of Chinese women's art: beautiful, gentle, charming, non-confrontational, idealistic. From the perspectives of experience and emotions unique to women, female artists have made an ubiquitous breakthrough in the limitations of gender awareness in their works, displaying gender differences in their artistic creation to reflect their thoughts on the individual life and social status and in expressing their view of world as well as their sense of worth.
Nowadays, the group of female artists in the world of contemporary art has been endowed with emerging significance in academic research. Female artists selected for this exhibition vary in age, cultural background and personal vision while their works on display present their diverse exploration into various art media and methods, featuring the rich language of female artists. The exhibition has nothing to do with any feminist issues but tries to return the focus onto the female artists themselves while being as authentic as possible. Such a large scale exhibition held by Tree Museum has made women's studies and women's art tread on the heels of the trends of the times.
Jia Fangzhou talked about the distinction of this exhibition when compared with previously planned exhibitions in compiling the selection of artists and works, which highlights the gentle touch of female artists. The most avant-garde part of the previous exhibitions emphasized the feminist approach and was particularly strong in feminism. But this time it did not highlight the feminist concept as objectively speaking contemporary female artists in China do not go to extremes at all. Wyatt Art Museum has recently held a female art exhibition so that "Chorusing of Luan Birds and Phoenixes" chose to differ itself in the selection of works, paying great attention to the connections between female art and contemporary life and fashion. That is to say art is at the summit of fashion which is a very definite theme here. For this exhibition, "the summit of fashion" is in contrast to the whole of "Chorusing of Luan Birds and Phoenixes", which better reflects the status of the contemporary development of female art.
Along with the opening ceremony, a seminar of female art was held at Tree Museum. Domestic renowned theorists , scholars and critics including Duan Jun, Dao Zi, Fu Xiaodong, Hang Chunxiao, Li Jianqun, Sheng Wei, Tao Yongbai, Wang Duanting, Wang Lin and Yang Wei discussed and commented on the works on display. After its exhibit in Beijing, "Chorusing of Luan Birds and Phoenixes" will tour to Shanghai and Guangzhou. It will be in Beijing until October 20.
Related posts: