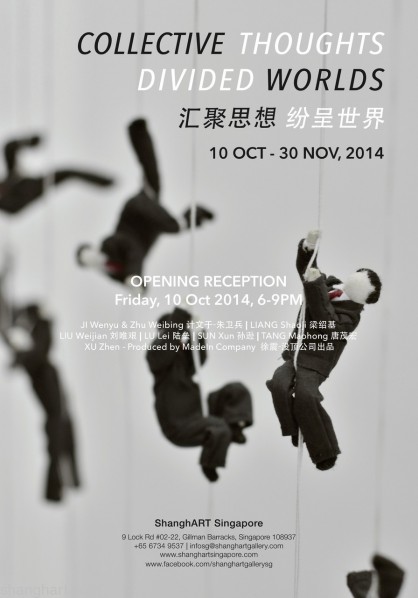 ShanghART Singapore presents Collective Thoughts Divided World from 10 October to 30 November 2014, showcasing artworks which have traveled from prestigious art fairs like Art Basel and FIAC – Foire Internationale d'Art Contemporain.
The exhibition presents eight artists– Ji Wenyu & Zhu Weibing, Liang Shaoji, Liu Weijian, Lu Lei, Sun Xun, Tang Maohong and Xu Zhen – Produced by MadeIn Company, producing artworks of diverse medium, this includes three mixed media installation, eight painting on paper, a set of film drawing, video and a free-standing wooden sculpture.
The carefully curated show is part of ShanghART's dedicated effort to conserve, research, educate and widen awareness of contemporary art, encourages enriching aesthetic dialogues.
About the exhibition
Dates: Oct 10, 2014 – Nov 30, 2014
Venue: ShanghART Singapore
Address: 9 Lock Road, #02-22 Gillman Barracks, Singapore 108937
Tel: +65 6734 9537
Email: infosg@shanghartgallery.com
Courtesy of the artists and ShanghART Singapore, for further information please visit www.shanghartsingapore.com.
Related posts: