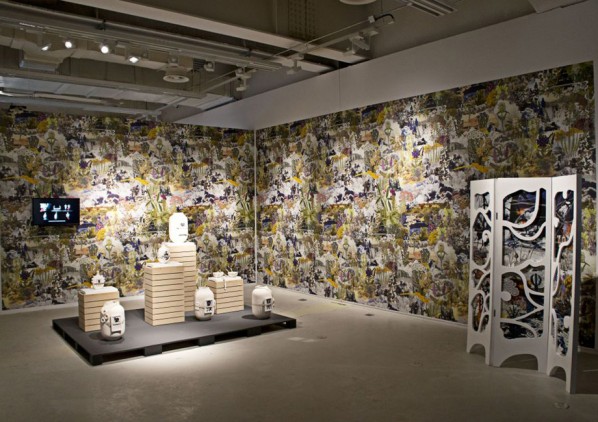 This year sees the third consecutive year of the fascinating annual exhibition hosted by Yi&C, and is again organized by collector Rudy Tseng 1. The opening of this exhibition will be held on November 9th in coordination with the schedule of Art Taipei 2012. Besides Part 1 of the exhibition in Yi&C Contemporary Art, the second part of the exhibition will be extended to a new space—Artrans Fine Art Storage, an individual stand alone building in Neihu where three out of six-story building where a portion of the art works will be exhibited. The theme of this exhibition is Chinese contemporary art. Italian curator Davide Quadrio, a long-term inhabitant of Shanghai who speaks fluent Mandarin, is invited to curate this grand-scale exhibition, along with Jenny Lee as the assistant curator.
The title is inspired from Spanish director Luis Buñuel's movie of the same title, Discreet Charm of the Bourgeoisie. Buñuel collaborated with Salvador Dali in producing Un Chien Andalou, a classic film of surrealism, which deeply influenced Latino films directors such as Pedro Almodóvar Caballero in Spain. Middle class means the economically independent white collars or owners of small enterprises in modern society, and they are sometimes called "the squeezed middle"; they do not enjoy a wealthy life like the upper class, nor do they benefit from the social welfare as much as people of low income. Such a class is described in Marxism as the "petit bourgeoisie." This exhibition discusses the middle class from different perspectives. They have invited artists from Taiwan, Hong Kong, China and Singapore to participate in this exhibition and they look forward to seeing the different aspects of the middle class through the eyes of artists from different cities in the greater China area. Through their works, the new language proposed by contemporary art shall be further deciphered. Between the two spaces, there will be an exhibition of nearly 3300 square meters, where 18 artists and a body of 122 works will be presented around the theme.
Buñuel claims, "Digression is my way of telling a story, a little like the Spanish picaresque novel." In the beginning of the film, a group of people arrived at a party only to find that it is the wrong date. They then decide to go to a restaurant instead, where, during the meal, someone heard weeping sound behind the curtains. It turns out that the owner has died and his body lies there thus. It is of such a series of narratives so removed from the subject that the Spanish picaresque novel is composed—in the middle ages, it was a folk genre very popular in the Spanish area—amidst the turmoil of society, these are stories of a bunch of vagabonds struggle to make a living on-the-road through trickery and knickknacks. In the Chinese society, Lu Xun's The True Story of Ah Q is a perfect counterpart of picaresque novels.
The invited artists include Yang Fudong, whose video work Seven Intellectuals in Bamboo Forest participated in the 12th Documenta; Qiu Zhijie, the curator-in-chief of the 2012 Shanghai Biennial who has participated in such international exhibitions such as Venice Biennial; Zhang Enli, whose work Space Painting wowed the last Gwangju Biennale; Zhang Peili, the "Father of Chinese video art", is an active member among the 85 New Wave; Yang Zhenzhong, whose challenges against the standard concepts of social behavior were embodied in his video and photographic works; Zhou Xiaohu, the artist renowned in international art scene for his clay animation films and video installation works; Lee Kit, whose works were exhibited in both The New Museum and MoMA, New York last year and will be representing Hong Kong in Venice Biennial next year; Tsai Charwei, the Taiwanese artist whose works were presented in the Foundation Cartier, Pompidou Center, and Yokohama Triennial 2011; Liu Jianhua, who uses Chinese porcelain material as media and was recent exhibited in Minsheng Gallery and Ullens Center for contemporary art which grabbed lots of attention; Jiang Pengyi, the up-and-coming young Chinese artist and one of the two artists in the exhibition Yang Fudong curated in Ullens Center for contemporary art; Li Ran, the young video artist in this year's Gwangju Biennale; Lijun, the young photographer who spent an entire year documenting dust; Heman Chong, the Singaporean artist active in several European biennials who participated Venice Biennial on behalf of Singapore; New-York-based artist Julika Rudelius, whose works were exhibited in Tate Modern, Brooklyn Museum, and Swiss Institute of Contemporary Art—she presents her perspective of the middle class via a series of videos works shot in China—; Italian artist Francesco Simeti, who created luxurious yet minimal wallpapers that combine Chinese and European patterns; Geng Jianyi, who just had his solo exhibition in Minsheng Art Museum, Shanghai; MadeIn, the invitation-swamped artistic group active in international art scene; and Chen Zhou, the young video installation artist who participated in Shenzhen Sculpture Biennale and the Chinese video art joint exhibition in Museo Nscional Centro de Arte Reina Sofía, Spain.
This is an ambitious exhibition of great scale, including artists active in international art scenes and young talents with great potentials and future possibilities—all were selected with great considerations. As for the two exhibition spaces, Yi&C Contemporary Art is a classic of contemporary space: surrounded by its minimalist luxury atmosphere are many art pieces full of middle-class flavor, the entire space exudes a reserved charm; Artrans Fine Art Storage boldly utilizes its three-story space to create biennial-scaled exhibition areas, and, upon entering each story, one seems to be stepping into an entirely different artistic space. Both venues will open on the ninth of November. The opening ceremony of the exhibition in Yi&C Contemporary Art in downtown will be held between three to eight pm, while Artrans Fine Art Storage will have its grand opening from eight to ten thirty pm. Artists Lee Kit, Zhang Enli, Zhang Peili, Yang Zhenzhong, Liu Jianhua, and Tsai Charwei will be present at the Grand Opening.
About the exhibition
Date: November 09 – November 30, 2012
Opening: Nov. 09, 2012 Yi&C Contemporary Art & Artrans Fine Art Storage Services Opening
Media and VIP Preview
15:00-16:00 Yi&C (Part 1)
17:00-18:00 Artrans (Part 2)
Opening Reception
17:00-20:00 Yi&C (Part 1)
20:00-22:30 Artrans (Part 2)
Shuttle bus between Yi&C / downtown <—> Artrans
Yi&C – Part 1
Address: 22, Lane 252, Sec. 1, Tun Hua S. Rd., Taipei, Taiwan
Tel: (02) 2776-6628
E-mail: info3@yi8c.com
Contact: Alma Hsu, Amber Hsieh
Artrans – Part 2
Address: No. 61 Ln 106 Ankang Rd Neihu Dist,Taipei
Tel: (02) 2794-0102
Notes:
1. 2010 Living With Art Exhibition-Contemporary Art in Japan and Taiwan, 2011 Documented, Doubted, and Imagined Realities: Contemporary Photography from Japan and Taiwan
2. Digression is my way of telling a story, a little like the Spanish picaresque novel. – Brnuel, Miúltimo suspiro.
Courtesy of the artists and Yi & C, for further information please visit www.yi8c.com.
Related posts: