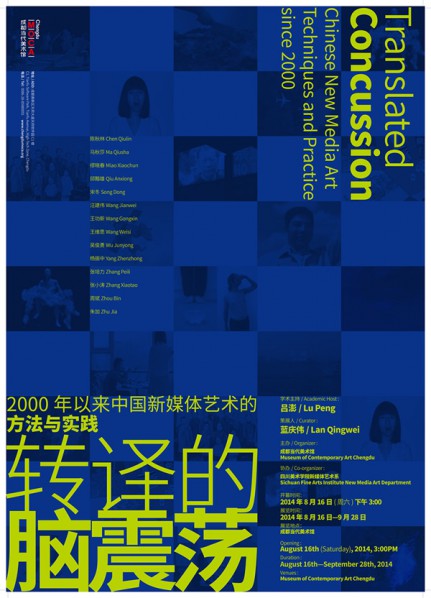 On 16th August, 2014, the exhibition Translated Concussion-Chinese New Media Art Techniques and Practice since 2000 was unveiled in MOCA Chengdu. This show is organized by MOCA Chengdu and co-organized by Sichuan Fine Arts Institute New Media Art Department. Mr. Lan Qingwei curated this exhibition and Mr. Lv Peng was academic host. Eighteen artworks by fourteen Chinese contemporary new media artists were displayed on this show to present Chinese new media art techniques and practice since 2000. This exhibition is held to constitute a dialogue with the French video art show in the early half year in MOCA Chengdu, and is an excellent opportunity for audiences to understand Chinese and French new media art. The exhibition will remain on view till 28th September and the admission is free.
Chinese new media art approximately started in the late 1980s and till the mid-1990s a group of excellent new media artists emerged in Chinese local art field. As the formation of globalization context and explosive growth of new emerging science technology, artists' creation mediums are gradually diversified, and Chinese new media art is coming to the forefront of the international arena and has been focused on by international art field. The video director of MoMA, Barbara Langdon once said "The activity of video art in China is the beginning of a new circle that starts from the closing point of the circle of the West new media art."
This exhibition will display several new media artworks from the excellent artists who are active in the latest ten years. Among them Zhang Peili is the pioneer on the way of Chinese new media art, and also there are many rising stars in recent years, including Wu Junyong, Ma Qiusha, Wang Weisi, etc. Connecting with the just closed French video art exhibition In the meantime, the Narrative Artist, this show perfectly interprets how the relatively well developed Chinese new media artists since 2000 complete greatly "the new circle from the beginning" according to the West old one.
About the exhibition
Dates: Aug 16, 2014 – Sep 28, 2014
Opening: Aug 16, 2014, 15:00, Saturday
Venue: Chengdu Contemporary Art Museum
Curator: Lan Qingwei
Artists: Chen Qiulin, Ma Qiusha, Miao Xiaochun, Qiu Anxiong, Song Dong, Wang Jianwei, Wang Weisi, Wang Gongxin, Wu Junyong, Yang Zhenzhong, Zhang Peili, Zhang Xiaotao, Zhou Bin, Zhu Jia
Organizer: Chengdu Contemporary Art Museum
Co-organizer: Sichuan Fine Arts Institute New Media Art Department (China)
Courtesy of the artists and MOCA Chengdu, for further information please visit www.chengdumoca.org.
Related posts: