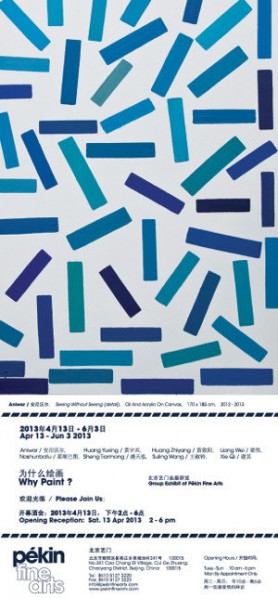 Painting, still the world' s most popular art form, by virtue of its nature, traditional and historical background, inevitably poses a litany of rhetorical questions:
In the age of new technology, will painting survive?
Is painting practice relevant to anyone beyond the person immersed in the act of painting?
Have the communicative aspects of paint already been fully realized?
What more can painting hope to achieve?
Is there anything new we can possibly hope to convey with a painting?
When we talk about painting, we inevitably turn to the dialectic between concept and technique, between attitude and aesthetic, that results in the act of turning an idea into art. Painting conjures images of the will to express oneself three dimensionally, to pose questions visually; and, to engage our thoughts on metaphysical questions and the mystery of reality.
In the words of David Sylvester, an optimist when it came to the future of painting: "The paint appears to act like a miraculous teeming substance that actually generates life under our eyes. It is as if matter and energy were being continually churned out, were forever being renewed by the paint".
The artists in this exhibition are primarily engaged in the act of painting, they share the common trait of being "wedded" to painting. For those less optimistic on painting' s continued evolution, the spectre of Sisyphus may loom over these artists' peculiar drive to paint. The works on display have no common style: They present a wide spectrum of brush strokes, paint materials and color palettes, imbued with diverse meaning, gesture and self-conscious acts. The aim is to offer the audience fertile ground to linger, to look, and to ponder, for oneself, the "Why?" of painting.
Artists:
Aniwar (b. 1962, Xinjiang Province, China)
Huang Yuxing (b. 1975, Beijing, China)
Huang Zhiyang (b. 1965, Taipei, Taiwan)
Liang Wei (b. 1966, Hubei, China)
Nashunbatu (b. 1969, Inner Mongolia, China)
Sheng Tianhong (b. 1973, Zhejiang Province, China)
Suling Wang (b. Taiwan, Live and works in London)
Xie Qi (b. 1974, Chong Qing, China)
About the exhibition
Duration: 13 Apr – 3 Jun, 2013
Venue: Pekin Fine Arts
Address: No. 241 Cao Changdi Village, Cui Ge Zhuang Xiang, Chaoyang District, Beijing 100015
Tel: (8610) 5127 3220
Fax: (8610) 5127 3223
info@pekinfinearts.com
Courtesy of Pekin Fine Arts, for further information please visit www.pekinfinearts.com.
Related posts: