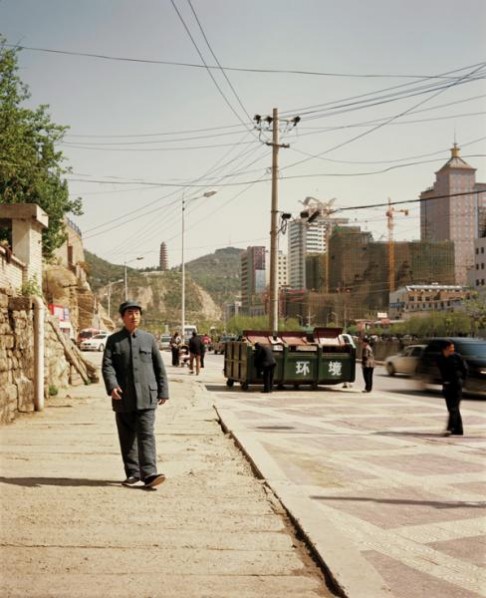 Today's China is modern and dynamic and through the work of these photographers, Qiu Minye, Wang Tong, Chen Xiaowei, Xu Zhe and Feng Fangyu, contemporary China is explored. The desire to look at contemporary society as well as reflect on Chinese history and traditions is surveyed in each artists work while being guided each time by different perspectives. They question contemporary society as well as the history of their country.
Memory, patriotism, the influence of globalization and the exploration of marginality are new problems that perpetually arise in their work. Between broken dreams and dreams come true, these photographers combine wonders to reality with a sense of humour. Wang Tong is rooted in contemporary reality by his transformations of the official photos of Mao. In these photographs, he shows the influence of globalization and the amazing urban development. One can see Pudong in the landscape of Shanghai where there are modern constructions in the scenery. This is the strength of the image as it conveys the key contrasts between ancient and modern China. Xu Zhe and Qiu Minye, choose the path of dreams and fantasy. Xu Zhe creates exceptional images of fantasy in which a pig or a donkey seem to take the place of man and take his role. For Qiu Minye in the series "Who is Who" a man is abstractly placed within the branches of a peach tree, animals and a solemn landscape surrounds the figure. Here, Qiu Minye is expressing the notion that "The truth is inside us, yet also are works of realism".
Magic China discovers the richness of the new photographic generation. For the first time in France, we explore the ability of photographers to reinvent China through photograph, showing us the culture of China today.
About the exhibition
Duration: 17 November, 2012 through to 22 December, 2012
Venue: Magda Danysz Gallery – 78, rue Amelot – Paris 11
Gallery Hours: Open tuesday to saturday 11AM to 7PM
Courtesy of the artists and Magda Danysz Gallery, for further information please visit www.magda-gallery.com.
Related posts: