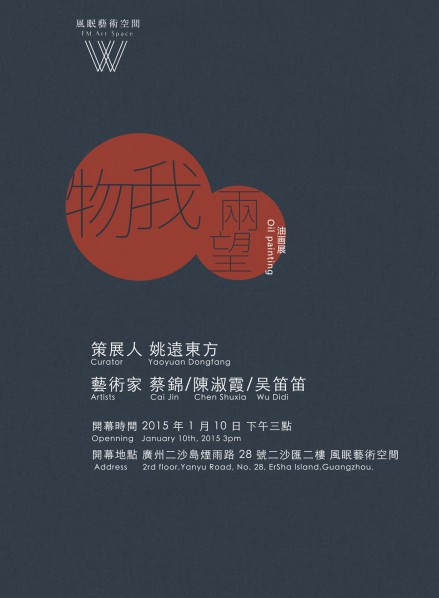 FM Art Space is going to present its first exhibition of 2015 which is entitled "Reflections between the Things and Ego" at the Space located in Ersha Island, Guangzhou on January 10, 2015. Yaoyuan Dongfang, Director of the FM Art Space serves as the curator. She has been focusing on the way of watching in the exhibitions she curates. So does the exhibition, using the way of watching the "things" and "ego", to discuss the theme of "Reflections between the Things and Ego". Three tutors including Cai Jin, Chen Shuxia and Wu Didi from art colleges are invited to join in this project. The exhibition will be on show from January 10 through to April 10, 2015.
As a pioneer of Chinese contemporary female artist, Cai Jin has a continuing influence and unique charm in Chinese female artists. Canna is her representative symbol: figurative expressionism in the graceful form of canna; the enchanting pink is replaced by the green in spring, marking the gender of the canna. The exhibition will present Cai Jin's "Landscape Series", which were born following "Canna Series", different from the concrete image of the Canna, her landscape work jumps into the abstract field. Is it withdrawn from the concrete object? Is it the scenery of the mind? … Welcome to the space to experience it!
The apples and pears on the table, the girls' faces and bodies, the clouds, mountains, lakes, trees…in the nature are attended by Chen Shuxia, and occupying the center of her paintings. The majority of the works she brought to this exhibition are Chen Shuxia's landscape paintings. A simple curve creates a hillock, countless vertical straight lines or the lines inclined at 45 degrees form a tree: different from traditional Chinese paintings, behind her simple and concise touch is her thought on the real objects, is the inner liberation of the artist.
Wu Didi is the youngest one of the three. Seeing her work, the viewer will be imperceptibly attracted by the bamboos shaped to a bow, or arranged to be the trapezoidal. Without any root and leaf, the bamboo is expected to weaken its identity of "plant". And turn it into different shapes, in order to resonate with different viewers. If looking carefully and closely at the little insect at the end of the bamboo, it precisely reveals the vitality of bamboo.
"Forgetting the Things and Ego" is a realm that the subject artist and the objects of the creation are integrated and forgot. Then, what is the artistic conception of "Reflections between the Things and Ego"? Is it simply the artist and the painting seeing each other? Or "see" the heart of the artist? … Welcome to the space on January 10, to explore together with the curator and artists.
Courtesy of the artists and FM Art Space, translated by Chen Peihua and edited by Sue/CAFA ART INFO.
Related posts: