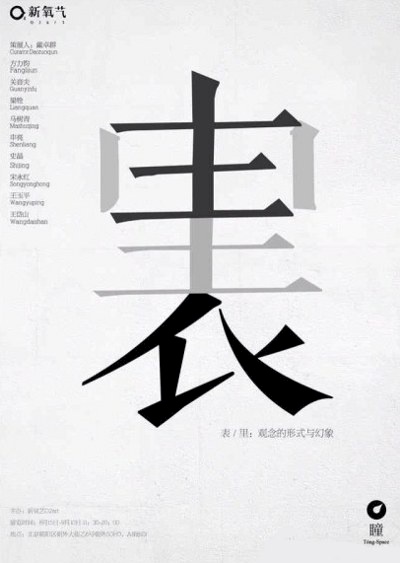 Preface
Surface/ Inside: The Concept of Form and Fantasy is intended to provide a new perspective and method to review painting, to some extent, it's possible that all paintings are classified into two types or dimensions, one type is to lead the viewers to the screen by producing an illusion, through the images to convey narrative, symbolic and even metaphysical aesthetic taste; the other one is by contrast, all concepts of which are but form and surface, and refusing to enter into it any spectators or the painting fails to provide any form of implication except for the subject itself.
Whereby, based on the two dimensions of "surface" and "inside", the exhibition respectively invites 9 artists composed of two groups to exhibit their works, observing the painting practices from two perspectives, featuring the basic issues and characters of painting itself. Meanwhile, through the different concepts, languages and styles of the artists, it places the painting review in a more specific and secluded field, unlocking the boundary of the existing concept and the fetter of excessive definition, facing the current diverse individual artistic practices with an open attitude, liberating painting from a dead doctrine and concept, giving painting the vitality and the possibility for freedom and growth once again.
Art shouldn't be restricted by the social context, in today, it's clear to reflect the appearance of landmark achievement of conceptual art, which equally exhibits or at least parallel with image and language, laws of text and thing, syntaxes of language and visual space.
Surface/ Inside: The Concept of Form and Fantasy, is the idea of an exhibition, under the premise of the chaos and staggered concepts, combing through the fragments of current painting states, selecting the representative artists of each period, focusing on the artistic practice to reflect the subject of the painting as the key clue, which is a basis for our study and discussion, while trying to return to the individual quality themselves,giving attention to and showing the unique and irreplaceable exploration and creation of artists, revealing the cognition and evaluation of the original painting through different historical stages, from the perspective of individual development.
Dai Zhuoqun
In Beijing, July 25, 2013
About the exhibition
Curator: Dai Zhuoqun
Artists: Fang Lijun, Guan Yin Fu, Liang Quan, Ma Shuqing, Shen Liang, Shi Jing, Song Yonghong, Wang Yuping, Wang Daishan
Organizer: O2art Duration: August 15 – September 10, 2013
Venue: Tóng Space, B101, Plat A, Chaowai SOHO,No.B6,Chaowaidajie,Chaoyang District, Beijing
Translated by Chen Paihua and edited by Sue/CAFA ART INFO
Related posts: