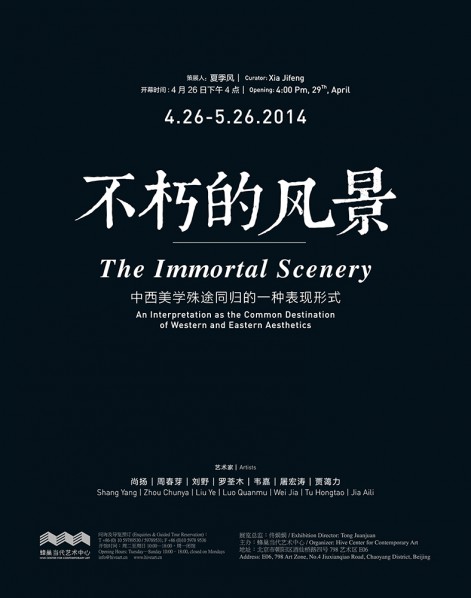 In the landscape painting, if you aren't entangled in the specific concepts between the vocabulary, Chinese landscape painting and Western landscape painting then nothing basically belongs to the art form. In the history of painting, the creation of landscape painting is always a subject of immortality. Whether in the East or the West, it seems that the form of portraying "it"in the living environment appeared later than the portrait of self expression. According to relevant literature, Gu Kaizhi created landscape painting in Eastern Jin Dynasty, seeing the copies of "Nymph of the Luo River" and "The Admonitions of the Instructress to the Court Ladies" preserved by the owners over the years so we can appreciate the appearance of his landscape painting. The form of Western painting in early medieval times was consistent with the processing used by Gu Kaizhi, landscape painting only served as the foil and the ornament of the main characters, while the use of conceptual processed mountains, rivers, trees and stones was in order to balance the screen and the demand fora decorative effect. In the childhood period of art, it was obvious that people paid more attention to the self than the perception and empathy of environment.
Although the origins of Chinese and Western landscape paintings are almost the same, they stepped into completely different directions during their development. In addition to the use of different tools and materials, the different cultural basis of aesthetics and the thinking is more important, so the Chinese and western landscape paintings went in separate ways, and even created opposite ideas. In short, under the influence of Confucianism, Chinese artists focus on "mind" instead of "object", dedicated to the fusion of themselves and the nature; while Western painters work on the basis of the culture of the ancient Greeks and Christianity, finishing their ideal evolution in the aura of humanistic thought, due to their awe and praise of God, the artists pursue the accurate and perfect reproduction of the "object",
The seven artists are the representatives of different ages of easel painting in contemporary Chinese art. Although some artists don't often paint, they all showcase their individual artistic appeal in the feelingsfor scenery. In their works, we see the old Eastern artistic aesthetic clues, perfectly running through the Western material and the techniques of expression, so they are injected with fresh vigor inthe immortal scenery once again, with the depth and breadth to expand the possibility of contemporary Chinese art.
To explore landscape painting in this digital age is perhaps anachronistic, or perhaps it is the time.
About the exhibition
Participating Artists: Shang Yang, Zhou Chunya, Liu Ye, Luo Quanmu, Wei Jia, Tu Hongtao, Jia Aili
Curator: Xia Jifeng
Opening: 16:00 on April 26, 2014
Duration: April 26 to May 26, 2014
Photo: Hive Center for Contemporary Art
Translated by Chen Peihua and edited by Sue/CAFA ART INFO.
Related posts: