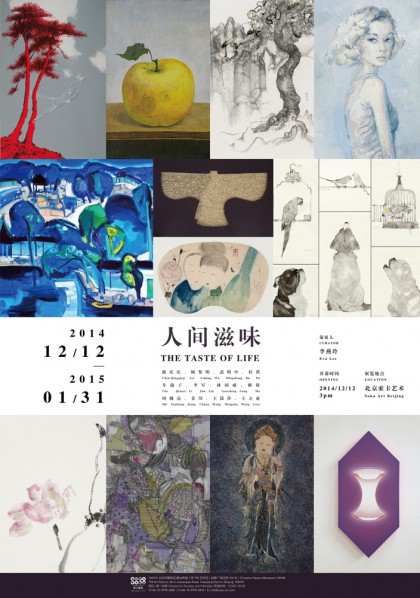 Soka Art Center Beijing launched a group exhibition entitled "The Taste of Life" on December 12, 2014, featuring 12 artists with a variety of features.
As the Chinese old saying goes, "Your handwriting reflects who you are", the "handwriting, is performing the mind", so that, doesn't "painting" itself more intuitively perform the mind, reveal more of who you are? So, if you want to find a unique and moving work, you should go to find the artists who have a taste of life. Especially as current film and television performances have become increasingly diverse, visual information dissemination is faster and faster, the vision of the public is expanding more and more, the experience of people becomes richer and richer, all of which greatly challenges the artist who by using static elements can express themselves. In order to make the work appealing, the artists should not only have a unique artistic expressive form of language, but also be spiritually supported by the unique inner experience.
Born in Beijing in 1953, Chen Qingqing was known for her hemp textile woman costume of the ancient world as early as the 1980s and 1990s, and became one of the few famous female artists of the times. Gu Liming, Wu Mingzhong, Du Pu and Che Qianzi are artists born in 1963. Gu Liming uses the language of contemporary art to reconstruct the traditional subjects of New Year Pictures and the Gods of Gate. Wu Mingzhong's new work can be described as "The Way forward seems like falling back", by using traditional elements to express the time and inner experience of an uncontrollable life; Du Pu lives in Suzhou, works and lives in the garden every day, living a happy-go-lucky lifestyle of a painter, painting landscape has been blended into his daily life; Che Qianzi is a poet and essayist, so his paintings are naturally full of poetry and allusions, the pretty cat of "The Handsome Man", the radish and carrot in "The Fat Yang Yuhuan and the Thin Zhao Feiyan", how interesting they are, obviously the literature adds a refined literati taste to the life of a romantic poet.
Li Jun and Wang Mengsha are excellent young ink painters who have been producing work recently. Li Jun loves to paint dogs, and the person who can perceive the feelings of animals is usually kind and sensitive, so that the dog in his brush is vivid, lifelike, like brothers and friends. Wang Mengsha is an enthusiastic woman from the South of the Yangtze River, whose works include both the attention-grabbing pornography, and the graceful and restrained sketches of sweet talk, because of the inner abundance, her creation constantly and easily moves people. We can hardly believe that Lin Guocheng is more than 30 years of age with such ancient feelings, he likes to use lines to draw quaint big trees at random with pen and ink, those subtle and good things of nature, through his beautiful wisps of curves that make people feel the long-unseen calmness.
Although Geng Mu and Jiang Chuan's paintings are different, their works both have some religious qualities. Geng Mu has his own religious belief, and his figure of Buddha best represents his pursuit of the artistic temperament of an hazy sense of time. Jiang Chuan has always created on the theme of artistic treatment, and his creation originates in the process of getting rid of the unhealthy condition of his body, the tensing of muscles, regulation of inner breathing, personal experience that is gained in the process of perfecting the body, are all his creative sources. Shi Yanliang and Wang Liya are both excellent young artists who graduated from CAFA. Shi Yanliang is interested in the performance of the mind of the youth. Born in 1983, Wang Liya has studied art for years, married and gave birth to child, she has her own artistic pursuits and ambitions, her feeling of real existence and female independent self-esteem help her place more emotional sustenance in art, the portraits of women and the scenes without a character are the best expression of the present mental state of the artist.
About the exhibition
Title: The Taste of Life
Curator: Li Yanling
Artists: Chen Qingqing, Gu Liming, Wu Mingzhong, Du Pu, Che Qianzi, Li Jun, Lin Guocheng, Geng Mu, Shi Yanliang, Jiang Chuan, Wang Mengsha, Wang Liya
Opening Reception: at 3:00 pm, on December 12, 2014
Duration: December 12, 2014 – January 31, 2015
Venue: Soka Art Center Beijing, 798 Art District, No.2 Jiuxianqiao Road, Chaoyang District, Beijing
Courtesy of the artists and Soka Art Center, for further information please visit www.soka-art.com.
Related posts: