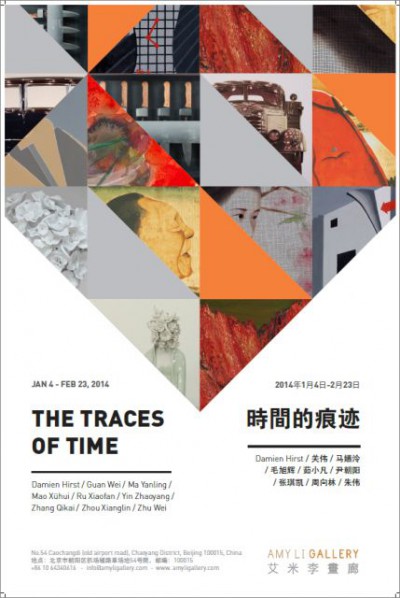 On January 4, 2014, Amy Li Gallery presents the first group exhibition of the year, "The Traces of Time". This exhibition involves the works of many important artists in the contemporary art scene, such as Damien Hirst, Guan Wei, Ma Yanling, Mao Xuhui, Ru Xiaofan, Yin Zhaoyang, Zhang Qikai, Zhou Xianglin, and Zhu Wei, it will continue until February 23, 2014.
Damien Hirst has always been an expert in playing with time travel, and his woodblock print is a continuous work from his classic Butterfly theme, capturing the eternal moment of fragile beauty. Guan Wei's work Untitled from 1987 reflects the ideology of the artist in the 1980s, with contemporary societal change as background, delivered in an abstract way with a hint of humor. Female artist Ma Yanling, using acrylic and Chinese ink with the finest ink brush as medium, renders nostalgic moments, with her sensitive emotions presented through her drawing skill as a precipitation of time.
Tilted Yellow-Grey Scissors by Mao Xuhui is a classic piece in Chinese contemporary art. Alongside Ru Xiaofan, who resides in France, his works combine the feelings of both east and west, Ode de la meditation and Ode de la jeunesse are the confrontation of a still pilgrimage and passing youth. Black Pine is one of the latest works in 2013 from Yin Zhaoyang. As a continuation of his previous works, it carries on with the grand magnificence of his style. Zhang Qikai has great control over materials, as well as his own philosophy towards Chinese politics. Mirage No.3 could be regarded as the irony of questioning centralized authoritarian. As one of the pioneers of realistic oil painting in China, Zhou Xianglin has two works in this exhibition. Model·1/24 × 24 Red Flag CA770 uses life size figures to recreate the symbol of social status and power from that era, which is a Red Flag brand car. The other piece is a lithographic work, China Memory · Jie Fang – another milestone of the artist that has been exhibited in many major art fairs. China China was framed during the 50th anniversary of the founding of People's Republic of China by artist Zhu Wei, in collaboration with the Tyler Print Institute. It drew on material from Chinese leader Deng Xiaoping, and through the work we may rethink and pay tribute to the past era.
On the timeline, contemporary art indicates the art of today, with connotations of the spirit and language of the contemporary world. Comparing the various manifestations of art, the connection with 'contemporary' in the world artists are living in today is perhaps most important. As an artist in the times we inhabit, one's work must reflect our zeitgeist within a certain social realism. The practice of Chinese contemporary art has just passed its 30th anniversary, and it leaves us with a psychological history of modern China.
The Traces of Time features fourteen works collected by the Amy Li Gallery, that constitutes the epitomising of three-decades history of contemporary Chinese art. Meanwhile, the Amy Li Gallery welcomes its 5th anniversary, the five years may inhabit only a small part of Chinese contemporary art history, but the quality remains.
Translated by Chen Peihua and edited by Sue/CAFA ART INFO
Related posts: