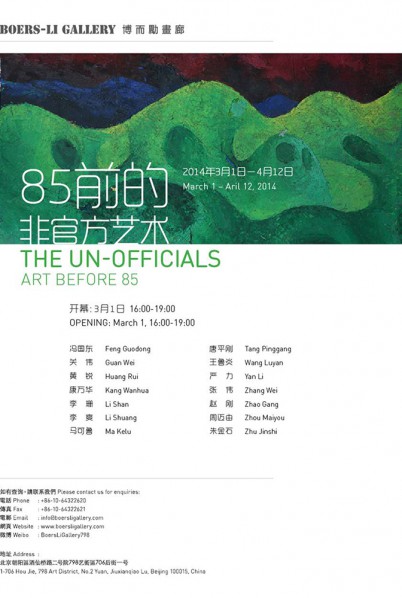 The opening of the group exhibition "THE UNOFFICIALS | art before 85" was held at Boers-Li Gallery on March 1, 2014. It collectively presents the works by 14 artists including Feng Guodong, Guan Wei, Huang Rui, Kang Wanhua, Li Shan, Li Shuang, Ma Kelu, Tang Pinggang, Wang Luyan, Yan Li, Zhang Wei, Zhao Gang, Zhou Maiyou, and Zhu Jinshi. The exhibition will continue to April 12, 2014.
In around 1980, the Chinese art world experienced one of its most dynamic and redefining moments. The exhibition THE UN-OFFICIALS | art before 85 features a group of artists who were pioneers in this early stage of exploring contemporary art. This exhibition shows how some artists liberated themselves from politically controlled artistic expression through new artistic practices, which were experimental in all possible ways – from performing a politically motivated non-political aesthetic attitude, or exploring the pure individual areas of the subconscious and subjective abstract expressionism, to actively engage in scrutinizing political conditions. Art creation was not a trendy thing to do in those days. Instead of a market regulating system, it was the individual motivation of the few people and social dynamics that formed the basis for their determination in instigating change, which kept their art practice alive.
The dynamics of change were strongly pushed forward by the active members of self-established artist groups Wuming (No Name) Painting Society and Star Painting Society, together with some independent artists, such as Feng Guodong and Kang Wanhua. The Wuming – formulated in 1973 – began with a search for pure art in a time when expression of self was under a strict state mandate. Amongst them, Li Shan, Ma Kelu and Zhang Wei, as important members of the group, chose to paint using plein airin, an impressionist style; their footsteps are imprinted in all the public parks in and around Beijing. Their influence also reached other artists such as WuGuanzhong, who admired their creative approaches.
Although the differences were not always strongly demarcated, another group of artists, Star Painting Society, was more politically driven from the beginning. Its founding members include Huang Rui, Li Shuang, Yan Li, Tang Ping Gang, Zhao Gang, and Zhou Maiyou, etc. Artists gathered under the umbrella of the Star Painting Society for a collective outcry against governmental control with an urgency to break free and be heard. They organized two public group exhibitions in 1979 and 1980, for which they received much national and international attention over the years.
The artists were collectively organized, and revolutionized the local art practice into one which was more open and internationally oriented. Against all regulations and practices in the early days of the 1980s – some of them were even imprisoned for their strongly articulated individual artistic and life styles, they were capable of introducing a broad scale of western – modernistic styles, such as Surrealism, Tachism, Cobra, Abstract Expressionism and Action Painting.
It all took place in an experimental way, in absence of a strongly articulated aesthetic regime. "These early works leave more open to the discussion on the role of medium, material, and form in the development of painting and multi-media collages during the period from the late 1970s into the first half of the 1980s." (Berghuis, Thomas J., Paths to Abstraction in Chinese Contemporary Art).
To explore an individual directed art practice was also in those days not an obvious thing to do. As Li Shuang writes in her autobiography Shuang – Personal Diaries of the 70s, "aspiring for personality is almost suicidal, thus there are not many who dare to appreciate beauty, because the search for beauty is a road of adventures and challenges."
After some years of research, "THE UN-OFFICIALS | art before 85" brings together some of the more outspoken art works made during those roaring years, some of them shown in legendary exhibitions, most of them rarely if ever. The artists are divided into different groups, the mission of these artists remains unified: to walk a path far from the "official bureaucratic march", to discover an un-official one through an experiment in art.
Courtesy of the artists and Boers-Li Gallery, translated by Chen Peihua and edited by Sue/CAFA ART INFO, for further information please visit www.boersligallery.com.
Related posts: