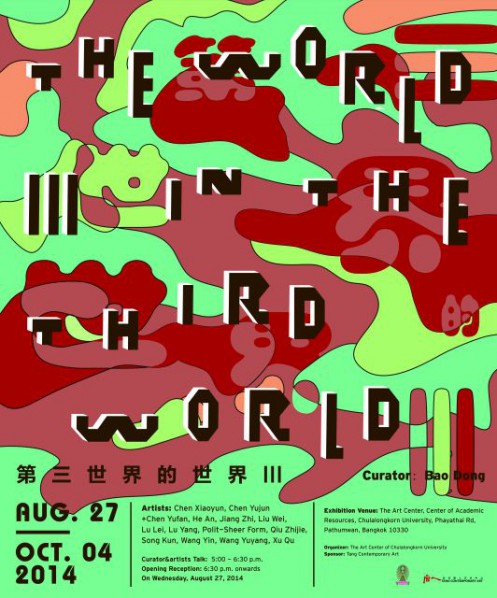 The concept of "the third world" in the international political system came into being during the Cold War period. It collapsed the binary division featuring capitalism and socialism, and produced an alternative idea of political sovereignty beyond the mentioned pattern. Almost at the same time, the concept of "World III" in philosophical system developed an independent sector of "objective knowledge" between the traditional divisions of material and consciousness, emphasizing the independence of cultural world.
Different from the postcolonial theory, the "third world" did not come from the self-criticism in western countries, but from the edge or outside of western world. It was originated from the political voice of the third world itself. Therefore, what the theory of "the third world" in the cultural domain brought was no longer a differential game of multiculturalism, but some possible construction of common culture instead.
In the practice of common culture under such a political consciousness, the cultural politics of contemporary art will break through the said scenario "political correctness," and change the set relationship between art and politics through strengthening art as the independent "World III." No matter "the third world" or "World III", it all belong to non-determinism and constructive world view.
So for discussions over contemporary Chinese art, the "World III of the third world" as a concept, may derive into the following 3 topics: 1) How to understand the consciousness of cultural sovereignty in the international political relationship; 2) How to face the possibility of restructuring a blueprint for some international political practice in an increasingly de-politicalized diversified global cultural scenario; and 3) How to re-comprehend the political independence of art in the delayed "post-historical" and "post-artistic" period.
About the exhibition
Duration: Aug 27, 2014 – Oct 4, 2014
Opening: Aug 27, 2014, 18:30, Wednesday
Venue: The Art Center of Chulalongkorn University (Bangkok, Thailand)
Curator: Bao Dong
Artists: Chen Xiaoyun, Chen Yufan + Chen Yujun, He An, Jiang Zhi, Liu Wei, Lu Yang, Lu Lei, Polite-Sheer-Form-Office, Qiu Zhijie, Song Kun, Wang Yin, Wang Yuyang, Xu Qu
Organizer: The Art Center of Chulalongkorn University (Bangkok, Thailand)
Co-organizer: Bangkok Tang Contemporary Art Bangkok (Bangkok, Thailand)
Courtesy of the artists and Tang Contemporary Art.

Related posts: