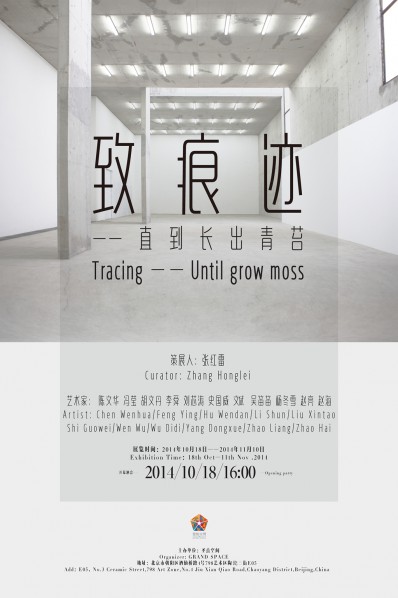 Tracing—Untill grow moss
By Zhang Honglei
We hold this exhibition in honor of traces, all the forming and already existing ones, which originate from every bit of passage of time, every detail of actions, and every perceptual evolution of habit and inertia.
The exhibition is the first one we hold in this newly opened Grand Space. We try to explore a novel way to exhibit, which breaks and reorganizes the so-called ordered" rules" or "theories" in such a way that seems unordered but are ordered indeed. We expect to surprise you in finding an unconventional way to watch exhibitions from multiple alternatives. Different from contrasting combination, all works of this exhibition look superficially restrained and peaceful yet restless simmering inside. Instead of making viewers watch usual practices and look for the so-called "center" as they habitually do, we attempt to get them out of their exterior experience resulting from the influence of the "center". We try to prevent people from being immersed in conventional exhibitions for too long and we hope that people expect more to nurture certain internal force from calm. In this sense, the true "center" means returning to essence, to exhibition itself and to art for art's sake and it is expected to be found in a way actually de-centralized.
One artist's temperament may be felt from another one's works, just as one type of traces actually permeates our surroundings. Whatever the way you adopt to express the popularity or the inner characteristics, the momentary traces are inevitable. Once the traces begin to expand, they show a singular force or even an overturning and eroding capability of a certain degree. From an impression to a shocking power that is strong but perceived later, it reflects formation in a reversal direction. The prelusion is visual sense that works bring, the coda is their extending thinking-arousing nature, and in between is the internal affection of works.
The eleven artists all adopt different ways to express art. From these differences, the exhibition is committed to finding processes which leave significant "traces"just as space does. Because of the sameness of the "traces", our common growth becomes more meaningful. Two photographic artists, Shi Guowei and Li Shun, present in their works dedicated discussions of more possibilities about images themselves. Shi employs the most original form of art expression, namely coloring the existing black and white photos by hand. By so doing, Shi extends the process of formation of traces while Li chooses to transform existing traces by expressing the actuality of the original photographic plates in the form of paintings.
Wu Didi's works extends the traces of the spirit and wisdom of the East through her unique female perspective and contemporary language. The other two female artists, Hu Wendan and Feng Ying concentrate on perceptual intuition. Hu's works often contain a constrained force and tiny sentiments and present traces of emotions in real life in a calm, implicit but extremely provoking way.
Feng Ying converts more directly the similar sentiments into a force of intuition and her works embody to the fullest those traces that stay with force. Zhao Liang colors the pictures with light colors and complements them with internal force. Wen Wu violently transforms the traces into new ones in his works during the process of creating the works. Liu Xintao's works highlights the traces of times while Chen Wenhua's works reproduce the traces of space and narration. Yang Dongxue's audio device contains calm, persistent and poetic implication. Zhao Hai presents the most beautiful traces in our life with his works with a type of retrospection on life and lives. The perceptible traces that the artists reproduce in their works are also the ones which form instantly and imperceptibly influence us in our perception and during the passage of time. Under proper circumstances, certain tacit violence which seeks to strike balances in these works becomes an intuitional force.
About the exhibition
Curator: Zhang Honglei
Artists: Chen Wenhua ,Feng Ying, Hu Wendan, Li Shun, Liu XIntao, Wen Wu, Shi Guowei, Wu Didi, Yang Dongxue, Zhao Liang, Zhao Hai.
Time: 2014.Oct 18th-2014.Nov,10th
Opening Party: Oct 18th, 4:00 p.m.
Address: Grand Space, Ceramic 3rd Street, 798 Art Zone, JiuXianqiao Road, Chaoyang District, Beijing.
Courtesy of the artists and Grand Space, for further information please visit http://grandspace.cn/.
Related posts: