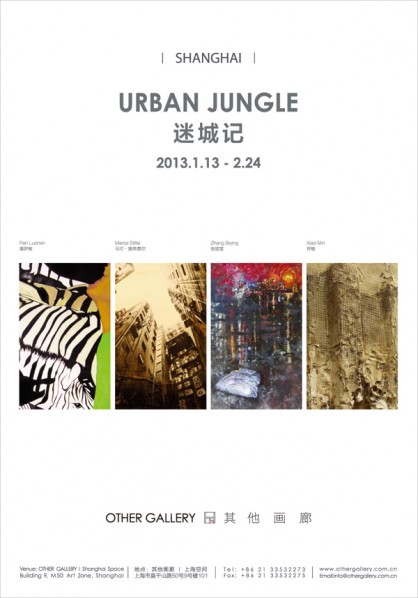 In our globalized world, most people live in urban areas and are constantly exposed to new stimuli. Whether in Berlin, New York or Shanghai, the seemingly endless succession of skyscrapers and chains of buildings, the play of architecture, the highways and streams of cars are the constant companion of those areas. Urbanity becomes the center of our life. In this exhibition presented by the Other Gallery, 4 young international artists express their point of views of an Urban Jungle through different media. Each artist lives in big urban centers and was strongly influenced in their creativity and work.
About the exhibition
Artists: Pan Luomin, Marco Stifel,Zhang Biying, Xiao Min
Vernissage: Jan 12th(Saturday), 2013,5:00-7:00 pm
Duration: 01.13 – 02.24, 2013
Venue: OTHER GALLERY | Gallery Space
Address: 101, Bldg 9, No. 50 Moganshan Rd., Shanghai, China
Courtesy of the artists and Other Gallery, for further information please visit www.othergallery.com.cn.
Related posts: