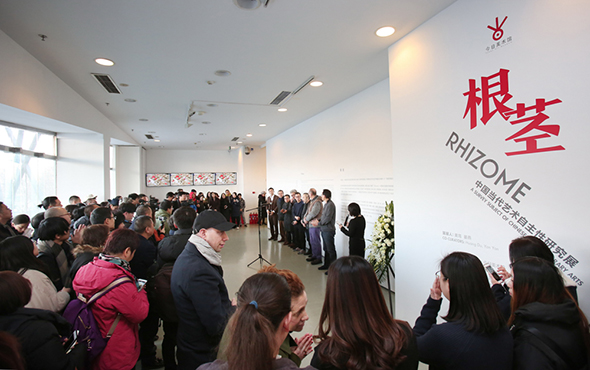 At 3:00 pm on January 14, 2018, "Rhizome—A Subject for the Survey of Chinese Contemporary Arts", curated by Today Art Museum, supported by Beijing Culture and Arts Foundation, opened at Today Art Museum. Breaking the customary model of thought on group exhibitions, the exhibition starts with the meanings of artists' case studies, by careful selection of artists, eight exhibiting artists were finally confirmed: Sui Jianguo, Wang Luyan, Hu Jieming, Jiang Jie, Ni Haifeng, Xu Zhen-MadeIn Company, Jiang Zhi and Gao Weigang. The exhibition teases out and presents the nodal works of eight artists and the changing trajectory of the concept behind the works of art. It tries to discuss the unique path of Chinese contemporary art under the background of globalization, responding to the strategy of national cultural development and having certain academic value and cultural significance.
The term "rhizome" is derived from the philosophical theory of Deleuze, a French philosopher. Likened to a complex cultural metaphor and thinking model of nomadic theory, the "rhizome" represents an open, non-central, irregular, diverse and infinitely growing form and vitality. The "rhizome" precisely describes and outlines the characteristics of Chinese contemporary art—growing continuously in integration and generating differences in growth. The exhibition is closely related with the background of the times. Since the reform and opening-up policy, Chinese contemporary art has always maintained its vitality of opening up. While assimilating nourishment from the West, it has continuously merged to create a new art form that is open and diverse. Rooted in the context of socialism with Chinese characteristics, Chinese contemporary art has shown its spirit of autonomy and sense of subjectivity over the last decade or so. Whether from form to content or from concept to language, the diverse artistic practice powerfully interprets and proves "autonomy" of Chinese contemporary art—recognition of cultural identity, confidence in artistic expression, dedication to artistic individuality, and so on.
Under the promotion of dual forces of external cultural agitation and internal cultural change and development, Chinese contemporary art has an irreplaceable multiplicity. However, this multiplicity is not a dendritic relationship but a symbiotic one. In order to better understand the exhibition, curators focus on three perspectives, namely "Multiplicity and Symbiosis", "Continuity and Fusion" as well as "Nonlinearity and Recoding". Starting from three perspectives, the exhibition interprets and studies the autonomy of Chinese contemporary art.
"Rhizome—A Subject for the Survey of Chinese Contemporary Arts" is co-curated by Huang Du, a renowned curator, and Yan Yan, Deputy Director of Today Art Museum, and her team. When curator Huang Du was interviewed by CAFA ART INFO, he said that the it started a preparation of the exhibition in last September and selected artists from more than 30 and less than the 50 artists that originally presented work, in order to distinguish itself from the model of "chorus", "offering viewers a chance for a better understanding of each artist", so that the pattern of the joint piece composed of eight solo exhibitions are on show. On the other hand, the works cover a wide range of media, including sculpture, photography, video, installation, and painting. "We have selected important artists who represent the art of different periods including the 1950s, 1960s and 1970s, and even consider gender."
The eight artists including Sui Jianguo, Wang Luyan, Hu Jieming, Jiang Jie, Ni Haifeng, Xu Zhen-MadeIn Company, Jiang Zhi and Gao Weigang, who have their own unique artistic language and creative ways, and are active in various modern and contemporary Chinese art environments. The artists' thinking and practices reveal the relationship among idea, form, language, art noumenon, cultural context and social reality. There is not only the macro and micro analysis as well as the exploration of concept and language, but also the manifestation of social and art noumenon. The artistic creation characteristics of every artist are summarized by the following key words: Memory, Paradox, Consume, Materiality, Refraction, Transgression, Poetic and Interchange.
In the white exhibition space on the second floor, it features artist Sui Jianguo's works. Sui Jianguo has successively served as Professor and Director of the Department of Sculpture and Vice President of the School of Plastic Arts, the Central Academy of Fine Arts. His early artistic concept focused on the representation of the relationship between materials. That is to say, a kind of physical form is created and a unique artistic language is also constructed through the diversion and transformation of natural and industrial materials. When he was interviewed by CAFA ART INFO, Sui Jianguo introduced his idea of ​​selecting these works for the exhibition. "The selection of these works was originally diverted from the theme of 'Rhizome', but it also emphasizes the relationship between work and space, in addition, the space is also an important reason why I place it." From "Earth Suspended Series" in 1992, to the sculptural installation of "Memory Space" constructed by 50 cross ties, "Mantle" in 1997, and the "A Scroll of Drawing", "Blind Portraits", created recently, his works reproduce the symbols that are closely related to social symptoms and individual memory. Sui Jianguo has been expanding the connotation and extension of sculptures—combining contingency and uncertainty as well as the artificial and new technology, gradually turning to get rid of individual identity, exploring the existence of human beings and their relationships and bringing it into a new dimension of time and space.
On the other side of the second floor, it is a dark and tall huge space which features three works of installation by artist Hu Jieming. Hu Jieming is one of the most important and representative artists in the art of new media and video installation in China now. All of his early works emphasize the interaction between works and people, intended to analyze the relationship among body, image and space. This magnificent video installation lets the audience directly position some uncertain space-time of the past. The images of the individual memory are evoked, forming the resonance of each individual on the visual text.
In his work "Related to Happiness", Hu Jieming attempts to turn his attention to internal physiology and analyzes it, transforming physiological charts, gesture, architectural space, identity and staves into a comprehensive experience of visual blending. His artistic creation is dwelling on the alternation and change of time, space-time, history and memory, using different media and integrating the technologies of photography, video or digital interaction to persistently raise the artist's point of view and questions.
The video installation of "Shadow—Day & Night" is hung on the dark wall. Hu Jieming introduced the materials and stories of these photos to CAFA ART INFO, "some of the photos are diverted from my family's photos and my pieces, and I have rewritten the stories with a different identity, and then presented it using writing with a modern medium, so that it is like reading someone else's story. In addition, there are many old photos purchased or collected from the internet from 2013 to 2016. Three walls are covered by 133 small works, while in the middle it places the installation of "Related to Happiness", composed of a piano, TV player and dynamic scores. Hu Jieming attempts to turn his attention to internal physiology and analyze it, transforming physiological chart, gesture, architectural space, identity and stave into a comprehensive experience of visual blending. His artistic creation dwells on the alternation and change of time, space-time, history and memory, using media and integrating the technologies of photography, video or digital interaction to persistently raise the artist's point of view and questions.
The works by Ni Haifeng, Xu Zhen-MadeIn Company, Jiang Jie are placed in the three-tier exhibition space. Ni Haifeng's creation began in the mid-1980s as one of the members of the concept art group "Red 70% Black 25% White 5%". Ni Haifeng has found his own language and logic through the media such as photos, installation and video—developing daily codes into meaningful artistic forms through the concepts given by artists from writing to code, then to exchange. He attempts to subvert the status quo of "dominant economic order" and resists preconceived notions relevant to significance. Ni Haifeng's art offers the new latitude to interpret politics and society.
Xu Zhen founded MadeIn Company, a contemporary art company treating production and consumption as a new model. Now his name has been closely linked with the group, and Xu Zhen-MadeIn Company appears as a creator. With its unique openness and mode of production, Xu Zhen-MadeIn Company has stimulated and inspired a large number of young artists' creative enthusiasm and participation. They have given full play to their energetic imagination, free and flexible methods and the use of extensive and diverse media, and have created new works related to their own feelings of survival. For example, "Dual Game" is a vivid illustration, not only implying the dual game of the daily pool game and geopolitical game in the Middle East, but also revealing that the game accompanied by human development is ubiquitous.
Jiang Jie is the only female artist participating in this exhibition. Born in Beijing in 1965 and graduating from the Department of Sculpture, the Central Academy of Fine Arts, she is now a professor in the Department of Sculpture, the Central Academy of Fine Arts. As a female sculptor who has been active on the frontier of Chinese contemporary art, life and gender issues that have always been the centerpiece of her artistic concerns. The piece on display at the scene entitled "They Know their identities" is a specific case. In the work, it shows the birth status of mammals such as humans, horses and pigs, mixed and lying in the straw pile. A form of life which is discarded and abused is manifested, with the visual impact, stimulating people to feel compassion. Jiang Jie explained the origin of this work to CAFA ART INFO that, the poetry of the Polish poet Szymborska is her source of inspiration: "Their humble souls will never intimidate us in night. They keep a certain distance, and know their identities."
Jiang Jie's another work "Less Than 1.5 Tons" is a large-scale installation, and it can be understood as a white ant queen, and seen as an abstract thing, and can also be regarded as a genital organ. Jiang Jie said that she specially chiseled out a fissure-shaped hole from the white wall to present this piece, and the surface is also covered by transparent threads. The viewer can interpret the installation by himself/herself. As Jiang Jie described it that, "I hope everyone is going to see this work, and the words can't completely sum up the significance it conveys to everyone." In any case, it seems to show allusion to the artist's critique of gender dominance. Therefore, Jiang Jie's art gives people the feeling and experience of an analysis of discursive hegemony through the sense of visual art in the tangled psychological activities.
Entering the fourth floor, we see the artist Jiang Zhi's poetic photography of a distinctive personal language. He pays close attention to many contemporary issues of society and culture on a long-term basis, always conscious at the intersection of two dimensions, poetry and sociology. His artistic language is diverse, having gone beyond the vague personal emotions and cultural attitudes that are likely to resonate with the audience, deeply and critically intervening in the tension between artistic creation and social reality from society and personal psychology. The works by two other artists Gao Weigang and Wang Luyan are respectively on show in the fourth-floor exhibition space.
Gao Weigang usually creates installation art in a specific location. His idea is to blur the boundary between subjective participation and the objective state so as to break the conventional mode of thinking. Gao Weigang often starts from daily life and uses metaphysical methods and tactics to make the works simple and full of conceptual meaning so as to make them easy for viewers to enter into the feeling of their forms, materials and aesthetics. However, the theme or attitude of his works transmits the message of another conflict, the contrast resulting from which makes people involuntarily reflect—"Do not just believe what we are willing to believe." Wang Luyan is one of the most representative conceptual artists in Chinese contemporary art. Wang Luyan attempts to consciously create an anti-realistic distance in the real world through the visual representation of the paradox in his works. With this sense of distance, the realistic experience and the expected goals are further examined with constant negation. He provides a lot of inspiration and understanding related to his own experience for viewers.
For the eight artists, everyone's dendritic growth trajectory and other people have also co-built a more complex and diverse picture of symbiosis, not only reflecting the non-linear fusion of Chinese contemporary art from linear development, but also reproducing the vitality of rational judgment and sensual imagination of artists in such a new era. Yan Yan delivered some other ideas about the planning of the exhibition to CAFA ART INFO, "although these eight cases can't completely summarize and show off the whole picture of its art activities, our team will offer more research exhibitions. We hope this exhibition will offer a study and discussion on contemporary Chinese art in perspective and with a system." The exhibition remains on view till March 4.
Text edited by Zhang Yizhi/CAFA ART INFO (Photo courtesy of the organizer)
Translated by Chen Peihua and edited by Sue/CAFA ART INFO
Related posts: