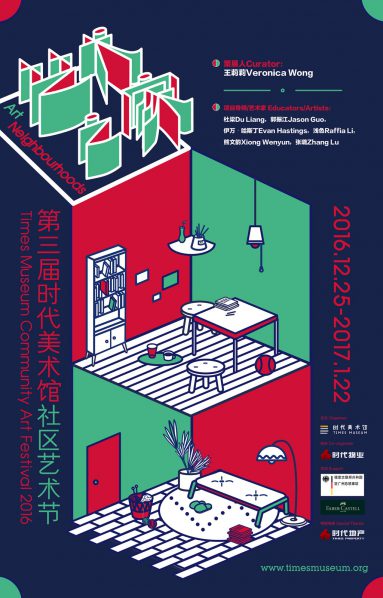 In our community we live and work daily. Being where social life is going on, our communities are compared to "cells" in this urban area. Families are the knots linking up individuals and community, and we merge into the community life through families and neighbours. On this ground, the innovations in our communities originate virtually from creative ideas out of innumerable families.
In Times Museum Community Art Festival 2016, they will return to the family, the "primary unit" of community, and focus on two age groups: seniors and kids. They are the two very important groups, namely the future "We" and our "Future" in the development of our communities in the years to come. Through this community art festival, they hope to provide children with more spaces for creation and experience while encouraging the seniors to gain confidence in their creation and expression, evoking their new feelings and reflect upon the surroundings and daily life.
In constructing mutually their art communities, "Everyone Is an Artist". However the character "Jia" in the Chinese translation of the word "artist" is one that signifies a master, which to some extent hinders or limits universality in artistic creation. Thus most public audiences tend to believe that art has nothing to do with them if they are not experts in arts. In this community art festival, they hope to step further to exploit the potential in artistic creation from our neighbourhoods, and their understandings of community. As a sincere neighbour to this community, Times Museum hopes to get closer to its public life and establish a more intimate relationship.
2016.12.25 Vernissage + Christmas Party
2016.12.25 – 2017.1.15 Messy Play!
2016.12.25 – 2017.1.22 Rabbit Hole
2016.12.25 – 2017.1.22 The Curious Muse
2016.12.28 – 2017.1.22 Zero-base Painting Class to Start a New Life
2016.12.29 – 30 Imagine Shadows
2017.1.22 Finissage + Silver Carnival
Time: 15:00-16:00, 2016.12.25, 2017.1.1, 1.8, 1.15
Venue: Multi-function Hall, Ground Fl, Guangdong Times Museum
Educator: Du Liang
Participants: Children aged 4-8
Messy play contributes enormously to the development of a child's cognitive and creative abilities. It allows a child to explore their senses by providing the opportunity to pour, mix, squeeze and squelch materials not normally available to them. Also, not having to produce something in particular, leaves a child free to explore all sorts of possibilities. Art education to children should be adapted more to caring about their interests (everyday, kinesthetic, secure, fantastic, mysterious, ever-changing, unregulated, colourful, interactive and within their capabilities, etc.) than to training them to be artists. In other words, art education should be pivoted upon the unrestrained "play". In this community art festival, we will organise four messy play workshops for kids to create and experience freely.
Time: 2016.12.25 – 2017.1.22
Venue: Banyan Commune, Ground Fl, Guangdong Times Museum
Architect: Jason Guo
In the eyes of adults, our kids' doodling seems to be a sort of scrabbling and scribbling, but to kids, hidden in threads may be a rabbit hole leading to a brand new wonderland. In his childhood, architect Jason Guo particularly enjoyed painting on those mechanical blueprints that his grandfather had brought home. In his eyes, those lines on the blueprints was not so much the parts of those machines but undulating mountains and valleys, vigorous hills and caves. In his work, taking raw materials from kids Elliot and Shiqiu's doodling works, Guo tries to build up a designing system transforming virtual, 2D and cold figures and data into visible, 3D and interactive fun space.
Time: 2016.12.25 – 2017.1.22
Venue: Front Gates of Times Rose Garden I, II, III
Community should be a place where different groups gather to exchange thoughts and ideas. But real public discussions or communications have not yet realized in modern communities as we are more adept and keen on articulating our personal statements or holding dialogues with our identities erased on social media. As a neighbour of this community, Times Museum has been long clung to building up platform for sharing art and knowledge, but rarely got the chance to directly harken its innovations, expectations and feedbacks. During this community art festival, you will find four "Muses" in different public spaces of the community collecting fantastic ideas from those neighbours with a view to construct a virtual space effecting cultural and art exchange in communities.
who might share the same interest with you!
Zero-base Painting Class to Start a New Life
Date: 2016.12.28, 12.30, 2017.1.4, 1.6, 1.12, 1.13, 1.18, 1.20
Venue: Multi-function Hall, Ground Fl, Guangdong Times Museum
Participants: Over 50 years old
Theories and Design on Courses: Xiong Wenyun
Course Educator: Zhang Lu
Art may be just around the corner! We believe that everyone has the potential to paint, though which has not attempted due to lack of time to learn or of confidence in ourselves. Initiated by artist Xiong Wenyun, "No Revising, No Filling" is a methodology, which allows anyone with zero-base in art to pick up painting brush to enjoy painting with confidence rapidly. It suits from teens to the 80's. In addition, this methodology derives itself from the combination of Chinese traditional line drawing and the composition and chromatics of Western Art, featuring freehand brushwork rather than truthfulness to life. The training courses Xiong offered opened a window for many people, who eventually found in surprise that when the rays of sunlight come into their minds, the spectacular remain nevertheless in their ordinary life.
Time: 19:00-21:00, 2016.12.29
Venue: The Stage in Times Rose Garden III
Time: 19:00-21:00, 2016.12.30
Venue: The Ground Floor Outer Space, Times Museum
Artists: Evan Hastings, Raffia Li
Familiar shadows in our daily life put an alienating mist between us and the world, ushering us into a world of innovation and imagination, so fascinating that no one can decline the invitation from the shadows. This outdoor shadow- play space not only awakens the childhood memories for residents in communities, but also ushers changes inadvertently into the routines of communities like a magic. Those who walk into this shadow space will have their shadows projected onto the screen or the facades of architectures so everyone may become the moving decorations or realities. In these interactive shadow theatre series events, we will engage a diverse group in a playful and creative dialogue about our differences and similarities.
Community Art Festival
Guangdong Times Museum has been intimately linked with the surrounding community since the moment of its inception. Located in a rapidly-changing urban-rural fringe area, the museum has frequently drawn inspiration and nourishment from the spirit around it, leading to a series of related field studies, discussions and artistic practices. Meanwhile, the surrounding community has slowly but sincerely stepped into a dialogue with the museum.
About Guangdong Times Museum
Guangdong Times Museum is funded by Times Property in 2003. During the D-Lab project of 2nd Guangzhou Triennial in 2005, Rem Koolhaas and Alain Fouraux were invited to design a conceptualized permanent building for the Museum, which was completed in September 2010. Registered as a non-profit organization (non-enterprise), Guangdong Times Museum opened its doors to the public in October 2010. Throughout the process of conceptualization, design and completion, the Museum has reflected the unique social, economic and cultural conditions of the Pearl River Delta.
Public programmes of Guangdong Times Museum aim at constructing a common platform for knowledge sharing. The museum takes an open attitude towards engaging audiences in dialogue on an equal footing, organising diverse, interactive events to shift from the traditional teaching-learning, professional, jargon-filled interpretation of the traditional museum to a guided, inspirational artistic experience, transforming audiences from passive receivers of knowledge to active participants.
About the festival
Date: 2016.12.25 -2017.1.22
Venue: Guangdong Times Museum
Curator: Veronica Wong
Educators/Artists: Du Liang, Jason Guo, Evan Hastings, Raffia Li, Xiong Wenyun, Zhang Lu
Organiser: Guangdong Times Museum
Co-organiser: Times Property Management
Support: Consulate General of the Federal Republic of Germany Guangzhou
Courtesy of the Guangdong Times Museum, for further information please visit www.timesmuseum.org.
Related posts: