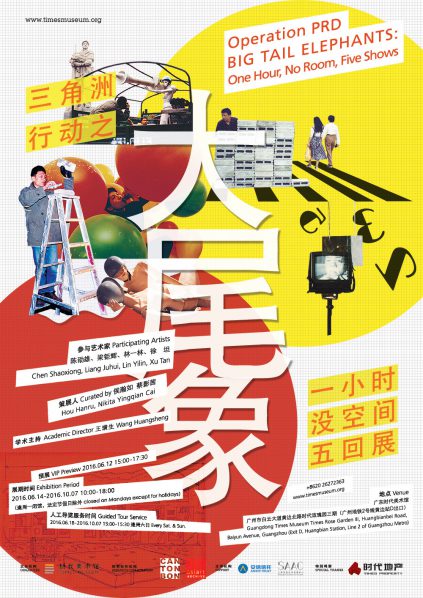 The "Big Tail Elephants Working Group"(aka Big Tail Elephants), comprised of artists Chen Shaoxiong, Liang Juhui, Lin Yilin, and Xu Tan, was active during the 1990s in Guangzhou, the heart of the Pearl River Delta region. From 1991 to 1996, Big Tail Elephants self-organized five exhibitions in temporary spaces that varied from cultural palaces, to bars, as well as the basements of commercial buildings and outdoor venues. In 1998, collective presentations of the group's recent works were staged at Hong Kong Polytechnic University and Kunsthalle Bern. After 1998, Big Tail Elephants received a number of invitations to participate in international exhibitions. Since then, members of the group have participated in P_A_U_S_E: 4th Guangzhou Biennale (2002), The 50th Venice Biennale–Zone of Urgency (2003), and The 2nd Guangzhou Triennial–Beyond: An Extraordinary Space of Experimentation for Modernization (2005), among other shows.
The decade from 1990 to 2000 saw distinctive developments arise within the once-peripheral contemporary art scene of the Pearl River Delta region, viewed in part as a result of the combined forces of China's explosive economic growth also found throughout Asia in general-and the twin projects of modernization and urbanization. Concealed by the notions of "freedom and openness," globalization, the commodity economy, and consumerism deeply transformed the lives of ordinary people. Driven by economic growth and material desires, an alternative model of modernization, neither "Western" nor "Chinese," had taken shape and come into reality. Witnessing and experiencing this complex set of realities, Big Tail Elephants strove for the autonomy and legitimacy of artists and artistic production, and developed self-conscious modes of critique and resistance to the modernist binaries of West/China, central/local, public/private, and avant-garde/conservative. Since 2000, Big Tail Elephants have not presented themselves as a group in exhibitions but the members have remained active in the contemporary art field, and have contributed to the education and training of younger artists. Big Tail Elephants' continuous activities and influence during the 1990s made a positive impact on the artistic environment of the Pearl River Delta region, illustrating that in spite of a lack of infrastructure and support, creative forces and energies could be nurtured.
Operation PRD—Big Tail Elephants: One Hour, No Room, Five Shows is the first comprehensive retrospective of the group, bringing together, and at times re-staging, important works, actions, projects and archives of the group. "One Hour" is taken from Liang Juhui's performance "One Hour Game" (1996) enacted in the elevator of a construction site in Guangzhou. By directly creating works in urban public spaces, Big Tail Elephants proactively engaged with the ephemerality of artistic projects. "No Room" is responding to the group's fourth exhibition in 1994 which bore the same title, and which was hosted at Guangzhou's No. 14 Sanyu Road.  Suggested by Hou Hanru, the title reflects the absence of contemporary art institutions and spaces in the 1990s, while also alluding to the guerrilla-style spontaneity of the group's exhibition initiatives. "Five Shows" emphasizes the five exhibitions organized by the group in non-art spaces between 1991 and 1996, which, here, form the core of the Times Museum's survey of their works. The members of Big Tail Elephants took on an early stance of conceptualism and introduced ideas of temporality, process, and immateriality into their practice. Exhibitions and sites of action were thought of as laboratories for their artistic experiments about art and everyday life, concept and medium, audience and artwork. Ideas materialized directly in the exhibition spaces, processes paraded from streets to bars, and performances and works were exposed to the participation and intervention of audiences. The works and actions produced by Big Tail Elephants constructed temporal-spatial relations that only happened once. These fleeting events broke the hierarchical ordering of art and non-art, elitism and street culture, and offer prescient insight into the socio-political context of contemporary art in China after the 1990s, and its pointed and deliberate lack of ideological appeals.
20 of the group's works have been selected for reproduction based on archives and documentary materials, which include installations, performances, videos, and photography. The dialogues and negotiations between artists and their artworks, and artworks and their exhibition spaces echo the Big Tail Elephants' working ethos and their democratic group dynamics of respecting individuality as well as emphasizing equal collaboration. Between the presentation of these reproductions and the chronological narratives of the archives, which themselves provide shifting experiences of viewing artworks and reading histories, audiences are offered multiple entry points to understanding the Big Tail Elephants' creative process and artworks. A bar area is staged as space for public programs such as dialogues, seminars, book launches, and workshops held during the exhibition. A publication of the same title accompanies the exhibition, incorporating important documents and archives of the group, as well as artist dialogues and statements, critical essays from the past and present, and complete photographic documentation of their works in Times Museum.
About Operation PRD
For the last thirty years of China's flourishing "avant-garde," "experimental," and "contemporary" art movements, the Pearl River Delta has defied identification as simply an active region. It is, instead, an independent and unique site for experimentation. From the "Southern Artists Salon" of the 1980s, to the "Big Tail Elephants Working Group" and "Libreria Borges" a decade later-as well as more recent additions "Vitamin Creative Space" and the "Yangjiang Group"-these groups and other independent artists have, without exception, helped to establish this atmosphere. At the same time, Hong Kong and Macau, each with its own distinctive East-meets-West hybrid culture, contribute to this "alternativeness" through their own specific identities. Together these discrete yet interconnected places represent both a critical creative force in the Chinese-and international-contemporary art scene, and a liberated stance of unwavering independent thought. The independent perspective put forward by Pearl River Delta artists is regionally unified, while at the same time exhibiting specific differences between behavioral methodologies. These artists connect thought with behavior in their increasingly secular daily lives through both individualized and innovative artistic language. In a sense, the artistic culture of the Pearl River Delta Region has become not only a vital part of the Chinese and international landscape, but also an "alternate history" that has revealed new vantage points from which to view culture and art. Its existence allows for the continuous use of "alternative methods to boldly strike out or retreat" in revisions of current, and future, history.
"Operation PRD" is intended to recount this "alternate history", through representative works from groups and individuals that have defined the region. With its distinct architecture and design situated "parasitically" among urban residents, Times Museum shares this independent creative model. Over the past five years since its founding, the Museum has been closely bound to the existing culture and development of Guangzhou and the Pearl River Delta Region.
"Operation PRD" is comprised of the "PRD Research Fellowship" and an annual exhibition. In light of the clear lack of research dedicated to contemporary art of the Pearl River Delta Region, the Times Museum is launching the "PRD Research Fellowship" as a platform for research-oriented practices, providing interdisciplinary resources and basic grant for artists, researchers, and writers focused on knowledge production specific to the Pearl River Delta Region. More detailed information regarding the grant will be released along with the opening of the "Big Tail Elephants Working Group" exhibition.
About the exhibition
Date: 14 June – 7 October 2016
VIP Preview: 15:00-17:30, Sunday, 12 June 2016 (invitation only)
Exhibition Period: 14 June to 7 October, 2016
Venue: Guangdong Times Museum
Address: Times Rose Garden III, Huangbianbei Road, Baiyun Avenue, Guangzhou, China
Opening Hours: Tuesday – Sunday, 10am-6pm (closed on Monday except for public holidays)
Guided Tour: 15:00-15:30pm, every Saturday & Sunday, 18 June to 7 October, 2016,
Participating Artists: Chen Shaoxiong(1962), Liang Juhui(1959-2006), Lin Yilin(1964) and Xu Tan(1957)
Curated by: Hou Hanru, Nikita Yingqian Cai
Academic Director: Wang Huangsheng
Organizer: Guangdong Times Museum
Research Collaboration: Asia Art Archive, CANTOBON
Support: ANXIN TRUST, SAAC
Special Thanks: Times Property
Courtesy of the artists and Guangdong Times Museum, for further information please contact + 8620 26272363 or visit www.timesmuseum.org.
Related posts: