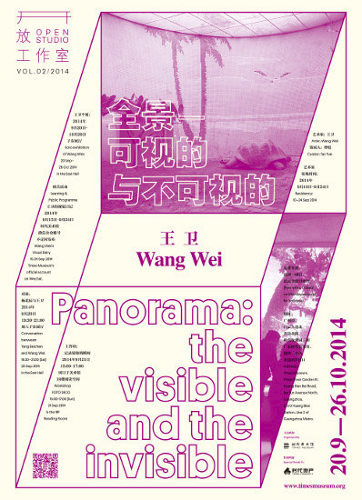 Wang Wei is a multidisciplinary artist who looks at the intervention and reconstruction of physical space. His works aim to disrupt human perceptions of space while opening a dialogue about construction, labor and ways of seeing. His Natural History series in recent years manages to extract some common artificial landscape in everyday life from its original context, and reconstruct certain ambiguous scenarios in exhibition space.
In this Open Studio project, the artist, once again, inspired by the tortoise park in Beijing Zoo, and migrated the park's panoramic decorative wall to the Museum, in the East Exhibition Hall, a mirror-like curved wall is installed. This installation, which is borrowed from another particular context, forms a direct confrontation with the architectural structure of and landscape from the top-floor glass exhibition hall. "Panorama", in this context, attempts to become an undefended and inexplicit exist.
In addition to the completion of installation work, during his residence, Wang Wei will do field trip in the Pearl River Delta. The artist will observe our environment through taking a serious of photography and share his insights with audiences though the Times Museum's subscribing account on Wechat.
Artist: Wang Wei
Curated by: Tan Yue
Series Programmes
Conversation: Wang wei & Yang Beichen
19:30-21:00, Saturday, September 20. In the East Hall
The conversation will be focus on Wang Wei' work in recent years and his yet-to-start projects
Wang Wei's Visual Dairy
15-24,September. Times Museum's official subscribing account on wechat.
The artist will share his two-week visual journey in the Pearl River Delta through taking photographs and writing texts.
Workshop: Foto Deco
15:00-17:00. Sunday, 21 September in the 18F Reading Room
The artist will invite the audience to take pictures relevant to "decoration", and come to the Museum and share their visual experience with others.(For more information, pleases subscribe to Times Museum official Wechat account, or closely follow our Sina Weibo, Douban and official website.)
About the artist
He was born in Beijing,China 1972. In 1996, he was graduated from Central Academy of Fine Arts. Now he lives and works in Beijing. Wang Wei's work has been exhibited in series of important exhibitions including: Pavilion of China at 12th International Architecture Exhibition-La Biennale di Venazia (Venice, Italy 2010); 2009 Shenzhen Hongkong Bi-City Biennale of Architecture and Urbanism(Shenzhen,China,2009); The Real Thing: Contemporary Art From China(Tate Liverpool,2007); Foreign Objects (Kunsthalle Wien Project Space, Vienna 2007); Beyond: The Second Guangzhou Triennial(Guangdong Museum of Art, 2005); A Second Sight: International Biennale of Contemporary Art(National Gallery in Prague, 2005); Between Past and Future: New Photography and Video from China(International Center of Photography, New York 2004); The First Guangzhou Triennial(Guangdong Museum of Art, 2002).
Open Studio project
Open Studio project is curated by Guangdong Times Museum's in house curator Ruijun Shen, which invites working artist an open residency. It is structured against museum norms to showcase the creative processes of artists, and to allow viewers direct contact with them. On the one hand, the Guangdong Times Museum encourages artists to work outside of their studios-it provides the setting, resources, funding, assistant and documenting for completing artworks that are exploratory and thought-provoking. Simultaneously, the museum draws together communities and venues outside of itself allowing viewers access to the conceptual and technical work of artists by way of exhibitions lectures seminars screenings, and workshops. The open studio strives to create new relationships between artist, artwork, museum, and viewer.
Courtesy of the artist and Guangdong Times Museum, for further information please visit www.timesmuseum.org.
Related posts: