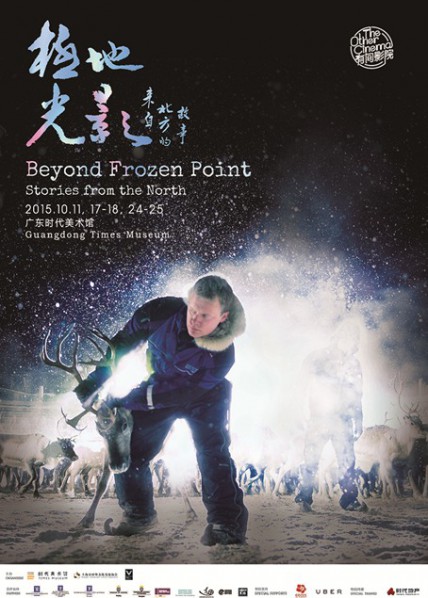 Guangdong Times Museum is pleased to present to Chinese audiences Beyond Frozen Point: Stories from the North, a film screening program. They will show 17 shorts and documentary films, all recently made by artists from Sweden, Finland, Norway, Greenland in Denmark and Russia. The common root of these films is the breath-taking nature of the far north and the narratives are all about people living there. For the first time in China, a film event dedicated entirely to the films from the North Polar Region is presented. This is a rare opportunity for the Chinese audience to experience the magnificent nature of the Polar Region on the big screen and to get to know the people living there through films.
The North Polar Region, with its massive land and arctic icecap above the North Arctic Circle, is one of the coldest places on the earth. The land is frozen all year round, and the high latitude makes for 24-hours days in summer and long, dark nights in winter. In recent years human activities have increased rapidly in the chase for natural resources and new territories. Meanwhile, the threat of global warming and climate change has created new disputes within international politics. Despite its seeming distance from the world's financial center, the region north of the 60 degree latitude is a hotspot that evokes questions concerning our common future.
The North Polar Region is the home of polar indigenous settlements, such as the Sami in Scandinavia, Ewenks in China and the Nenets in Russia. The harsh nature of the polar region shapes the unique characters of these people. Their quietness and roughness go hand in hand with their kindness and openness. In today's globalized world, even inhabitants of the North Pole inevitably share many experiences with the rest of the world. Here is where the local meets the global and the traditional meets the modern. The preservation of indigenous culture, protectionism against outsiders, and the prices to be paid for environment and wealth-gaining are some very urgent issues for the Polar Region. Naturally, these are also sources of inspiration for artists and creative minds living here.
The film screening is divided into 4 sections: Seasons, Strange North, People and Sami Voices, each giving a different entrance to the North and its people. The films from the Sami Voice section are made by filmmakers with Sami origins. It is appealing to see how these young people reflect their indigenous history and tradition in the contemporary society through music and films.
Meanwhile as they move their sight towards the east, on asimilarly high latitude, they see the frozen lands of Northern China. Minorities such as the Ewenks live in the northeastern forest, subsisting by reindeer herding. Much like the Samis of the North Pole, they too face problems with the preservation of their culture in the new era. Harsh nature has given the Northern people a special sense of humor and survival skills, all very much linked with the frozen land they come from. They chose to present here 4 Chinese films as a response to the Stories from the North.
Finally they are very honored to show the 71st Venice Film Festival Golden Lion winner "A Pigeon Sat on a Branch Reflecting On Existence" to conclude their search for Nordic identity and interrogation of the meaning of life. The Swedish director Roy Anderson here delivers a slow-paced humanistic story built on observations of the absurdity of ordinary life, expressed in memorable images.
Introduction of Visiting Directors and Producer at Times Museum
Geng Jun
Writer and director Geng Jun was born in Hegang, Heilongjiang province in northeast China where he shot all his early films. His first feature film Barbecue was selected by 3 Continents Festival in Nantes and International Film Festival Rotterdam in 2005. In 2009, he completed his second feature Youth, which was invited into the Competition section in Rome International Film Festival. The Hammer and Sickle Are Sleeping won the Golden Horse Award in Taiwan in 2014.
Sturla Pilskog
Are and Sturla are brothers and run Blåst Film.The Norwegian director, Are Pilskog (b, 1976), has been recognized as one of Norway's new, up-and-coming talents for documentary filmmaking. Besides an education in film, he holds a Master in Ecology and Animal Behaviour, and his films are characterized by an in-depth understanding of the ecological processes and behaviours of the animals he films. Sturla (b.1981) holds a Master in Visual Anthropology. His debut film as a director is Urban Hunters (Orig. Jakten på det nye Norge – 2011). Together with his brother Are, Sturla produces films from a small island off the west coast of Norway. Ice Handscape is the first film they have directed together.
About the project
Time: 2015.10.11, 17-18, 24-25
Venue: Multi-functional Hall, Ground Floor, Guangdong Times Museum
Times Rose Garden III, Huangbianbei Road, Baiyun Avenue, Guangzhou (Exit D,
Huangbian Station, Line 2 of Guangzhou Metro)
Admission: 20 RMB per section, with 70 limited seats, first come first serve.
50% off with Students ID, Times Museum member enjoy a 20% off discount (only available at the information centre of the Times Museum)
Organisers:
Guangdong Times Museum
Shanghai International Culture Association
Tromsø International Film Festival
Partners:
Royal Norwegian Embassy in Beijing
Royal Norwegian Consulate General Guangzhou
Royal Norwegian Consulate General in Shanghai
Swedish Embassy in Beijing
Swedish Consulate General in Shanghai
Norwegian Film Institute
Finnish Film Institute
International Sami Film Institute(ISF)
CoProduction Office (France)
Special Thanks: Times Property
Special Support: Guangzhou International Documentary Film Festival, China
UBER
Curators:
Li Shanshan
Wang Kaimei
Henning Rosenlund
Visiting Directors at Times Museum:
Geng Jun
Sturla Pilskog
Times Museum Screening Programme:
10.11 SUN 14:30 | Strange North 74'
16:00 | The Hammer and Sickle are Sleeping 52'
Director Q&A | Geng Jun
10.17 SAT 14:30 | Seasons 87'
16:30 | Seven Days 74'
10.18 SUN 14:30 | People 82'
Director Q&A | Sturla Pilskog
17:30 | Winter Cicadas 86'
10.24 SAT 14:30 | Sami Voices 78'
16:30 | The Last Moose of Aoluguya 100'
10.25 SUN 14:30 | A Pigeon Sat on a Branch Reflecting on Existence 101'
Obsessions from the Second Floor 27'
Courtesy of Guangdong Times Museum, for further information please visit www.timesmuseum.org.
Related posts: