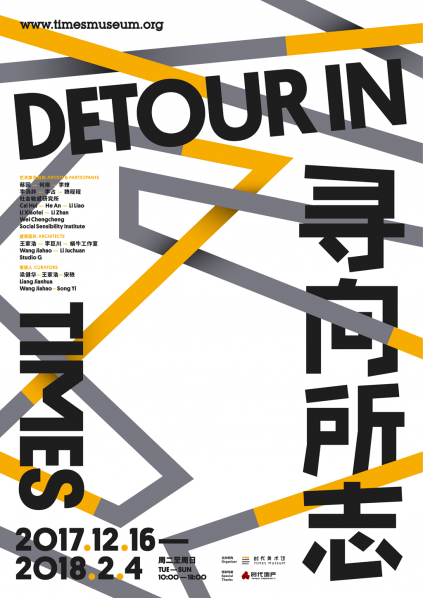 The man found his boat and came back, marking with signs the route he had followed. As he arrived the town of his county, he called in the Mayor and was urgent in pouring off all that he had heard and seen. The Mayor instantly ordered his subordinates to go to find the village with the fisherman. They looked for the signs, got lost however, and could never find it again.
Tao Yuanming, "Peach Blossom Spring"
As early as the design phase, Times Museum proposed to use "production" as a clue with its corresponding organizational framework. Therefore, the original plan is not a pure physical space, but can be regarded as a methodology for art museums. When confronted with practice, these propositions become part of the context.
Apart from that, the location, the historical and cultural conditions of the museum have become a reality that must be confronted during the process of shaping itself. Although in general, a private art museum's function always holds a clear definition, the role of domestic art museums in the public domain remains vague. What we can confirm is that it provides public space for research, collection and display of artistic creation. However, such a definition is loaded with crisis. It can not explain numerous questions itentails, for example, what role does an art museum assumes in multifaceted reality? What are the differences between state and private sector? In this case, the museum needs to redefine itself. Its own "exception" becomes a prerequisite.
Therefore, the exhibitions take the museum itself as a case to reveal all these hidden prerequisites, including its architectural form, practices in different perspectives, and its possibilities in the future. In this structure, artistic creation functions as a link to everyday life; architects are not only space planners, but also illustrators that instigate the viewers' imagination of the usage of the venue. During the exhibition period, the museum will become a multi-purpose public space that launches an inquiry of its own being by opening up and releasing itself from various paradigms and judgments. It has not only a sense of self-examination, but also courage to confide in the audience.
About the exhibition
Artists & Institutions: Cai Hui, He An, Li Xiaofei, Li Liao, Li Zhan,Wei Chengcheng, Social Sensibility Institute
Architects: Wang Jiahao, Li Juchuan, Studio G
Curated by: Liang Jianhua, Wang Jiahao, Song Yi
Dates: December 16, 2017 – February 4, 2018
Venue: Guangdong Times Museum
Address: Times Rose Garden III, Huangbian North Road, Baiyun North Avenue, Guangzhou
Courtesy of the artists and Guangdong Times Museum, for further information please visit http://en.timesmuseum.org.
Related posts: