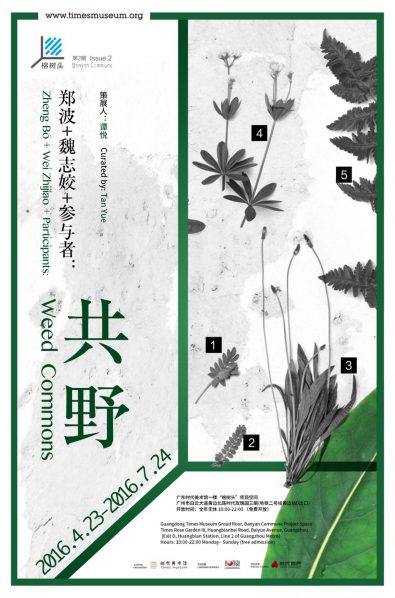 Times Museum is situated at the fast-changing urban rural fringe. Multiple forms of dwellings and complex human compositions constitute this typical landscape of the Pearl River Delta. Surrounding the museum are middle-class residential projects, urban-villages, small auto repair shops, dormitories of state-owned enterprises constructed in the 1980s, a temple built in Daoguang period of Qing Dynasty, and a piece of farmland that is just abandoned. All these co-exist and co-thrive, and Times Museum is in the middle of it. Artist Zheng Bo has been invited to organize the second project in the Banyan Commune, focusing on the social and ecological setting of the Museum.
Since 2013, Zheng Bo has produced a series of projects on urban wild plants. He investigates the histories of weeds in Chinese cities, analyze botanical symbols throughout China's modernization process, and reveal the symbiotic relationships between plants and politics. In this newly commissioned project, Zheng Bo, experienced landscape designer Wei Zhijiao, and workshop participants collect weeds in different neighborhoods around the museum, transplant them into the Banyan Commune, and construct a transient weed garden. Through this, they initiate a series of discussions on the relationship between museum, community, and ecology. The artist is no longer the sole creator; the public is invited to join the intervention and dialogues.
About the artists
Zheng Bo, born in Beijing in 1974, now lives and works in Hong Kong. He received his PhD in Visual & Cultural Studies at the University of Rochester, and teaches at the School of Creative Media, City University of Hong Kong. Committed to socially engaged art through practice and research, Zheng Bo investigates the past and the present from the perspective of marginalized communities and marginalized plants. His recent projects include solo exhibitions such as Sing for Her, Cultural Centre (2015); Weed Party, Leo Xu Project, Shanghai (2015); awallproject.net, supported by Cass Sculpture Foundation, The Space and British Council (2015-); Plants Living in Shanghai, Xuhui, Shanghai, commissioned by the 1st West Bund Biennale (2013). He has also participated in various group exhibitions including Adrift, OCT Contemporary Art Terminal, Shenzhen (2016); Collection Exhibition, Cass Sculpture Foundation, Chichester, UK (2015); The 8th Shenzhen Sculpture Biennale, OCT Contemporary Art Terminal, Shenzhen (2014); Occupied, Salzburger Kunstverein, Salzburg, Austria (2013); Video Art in Asia 2002 to 2012, ZKM, Karlsruhe, Germany (2013); The 3rd Guangzhou Triennial, Guangdong Art Museum, Guangzhou (2008). He was awarded the Juror's Prize by The Signature Art Prize of Singapore Art Museum in 2008 and the Prize of Excellence by Hong Kong Art Biennial in 2005.
Wei Zhijiao, an experienced landscape designer, is committed to studying complicated urban public space and urban fringe. She insists to reserve weeds in landscape design and create an environment for the city, people and other species to co-exist.
Banyan Commune
Banyan tree with a particular meaning is representing the uniqueness traditional civil cultural in Canton region. It is a temporary stopping place in the streets and alleys, an open courtroom and also a community centre. Times Museum launch a brand new project space, Banyan Commune, open to public for free since 2016, located just inside the street-facing glass wall at the main entrance to the museum. This space witnesses the seasonal shifts, day-and-night alternate of the surrounding neighborhood while serving as the window for connecting the museum to the public. Participation and openness are two major focus to this project. In different seasons throughout the year, artists will be invited to present a small scale solo exhibition aimed at the unique traits of the community and the architectural space, drawing from many forms including installation, video, sound, performance and event, among others.
About the project
Curated by: Tan Yue
Date: 2016.4.23 – 2016.7.24
Venue: Guangdong Times Museum
Address: Times Rose Garden III, Huangbianbei Road, Baiyun Avenue, Guangzhou (Exit D, Huangbian Station, Line 2 of Guangzhou Metro)
Hours: 10:00-20:00 Monday– Sunday (free admission)
Tel: + 8620 26272363
Courtesy of the artists and Guangdong Times Museum, for further information please visit www.timesmuseum.org.
Related posts: