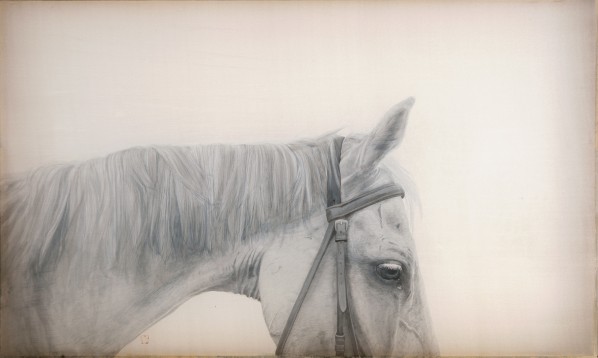 Guanguan's Horse will be launched at Triumph Art Space on November 16. After a year of preparation, around twenty pieces of work are picked to present. As the exhibition title, Guanguan's Horse suggests all the subjects of these chosen works are horses. The name, "Guanguan's Horse", originates from "Guan Ju"(simplified Chinese: 关雎), which implies that Guanguan's paintings actually despict herself more than horse itself. Therefore, it is possible to know more about Li Guanguan through the exhibition.
Not to mention that there were countless horse-painting masters in the history, even for today, there are pretty many established artists famous for drawing horses. However, horse has a new appearance under Li's illustration. Her paintings emits the warmth with a tinge of sadness diffusing from the painting, creating an atmosphere, soft while strong. Guanguan's painting has something to do with her material and media. She paints on special-made silk and saturates it with colors. When painting the horsehair along the veins, the exquisiteness of silk is fully delivered. The choice of painting material and method makes her work more implicit and mild. This kind of temperament and the theme of horse exactly complements each other. Guanguan's horse loses its masculine and strength, delivering a sense of melancholy, sensitivity, vigilance, fragility and even friableness. To highlight this sense, Guanguan prefers to paint part of a horse, especially the head, and eyes in particular. Horse eyes seldom look straight at the viewers, nor to the distance, but downwards with introspection. Horse in this posture doesn't seem to want any communication,but eager to be looked at. It seems that Guanguan's horse is actively attracting the viewers' attention in a passive posture. I am fascinated by the psychological effect aroused by the posture of horse: it appears that it's interpreting the relationship between looking and being looked at in a strange way. Guanguan admits that she is more like painting herself than the horse. Guanguan, in drawing the horse, does not try to represent the horse as an animal to substitute the real one with its image when the real one is absent, but to explore and discover herself, or for a better knowing and curing of herself. This self-expressing or self-shaping painting does not aim at confronting the viewers in great tension, but inviting the viewers into her own world and establishing some understanding.
The exhibition will be opened at Triumph Art Space on November 16, 2013 and be remain on view until December 12. The opening reception will start from 4pm., November 20, 2013.
About the exhibition
Title: Guanguan's Horse—Li Guanguan Solo Exhibition
Duration: November 16 – December 12 , 2013
Venue: Triumph Art Space
Reception: November 20, 4:00 pm
Courtesy of the artist and Triumph Art Space, for further information please visit www.triumphart.com.cn.
Related posts: