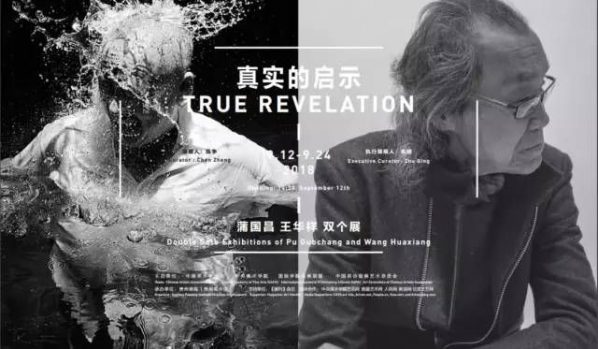 Preface
It's a rather interesting Double Solo Exhibition. As an event, no matter inside Guizhou or nationally at large, it has a significant research value and a unique meaning.
Both the names of Pu Guochang and Wang Huaxiang, no doubts, are influential in the art world in China in the present. They are not just a teacher and a student but also a friend and a mentor.
Half a century ago, after graduation from Central Academy of Fine Arts (CAFA), Pu Guochang was sent "by fate" to the remote area Guizhou and took root there since then. He started to check and inspect with "an outsider's" eyes the sky, the land and the people in the foreign land.
While thirty years ago, with the artistic enlightenment from Pu Guochang, Wang Huaxiang entered into CAFA and took root in the supreme university palace since then. He began his art life with an obvious urban temperament, adventuring in the capital city of Beijing among art heroes.
Coincidently with the space-time transposition, there are a lot of similarities as well as distinctiveness in their art works of the teacher and the student. Pu Guochang's innate independence of conduct triggered his impulse and dream as "an artistic rebel". It's hard to archive his style of Chinese ink painting to any existing entries. On the other hand, Wang Huaxiang's genetic rebellion made him unconventional. He's been conflicting between the contemporary and the classical, beyond, he always creates something new and original. He overturns common sense and has become a man of the hour.
Pu Guochang and Wang Huaxiang alike wander in the world of art experiences and experiments. They seem to tread different paths that lead to the same destination, but also look like to encounter each other. They have reached the same depth from different dimensions. It's making this Double Solo Exhibition more enchanting.
In the end, I can't help envying towards the deep jealousy of the noble friendship between Pu Guochang and Wang Huaxiang: teacher & student and friend & mentor. Wang Huaxiang though has become world-renowned, each time he talks about his apprentice his mentor Pu Guochang is the foremost.
Pu Guochang, each time talks about Wang Huaxiang, looks like a coach who has trained an Olympic champion. Apart from his pride of Wang Huaxiang, who also is his life-time luck admittedly.
Verbosity as above!
Chen Zheng
Guiyang
August, 2018
About the exhibition
Dates: Sep 12, 2018 – Sep 24, 2018
Venue: Guizhou Art Museum
Courtesy of the artists and Guizhou Art Museum, for further information please visit www.gzmoa.org.cn.
Related posts: