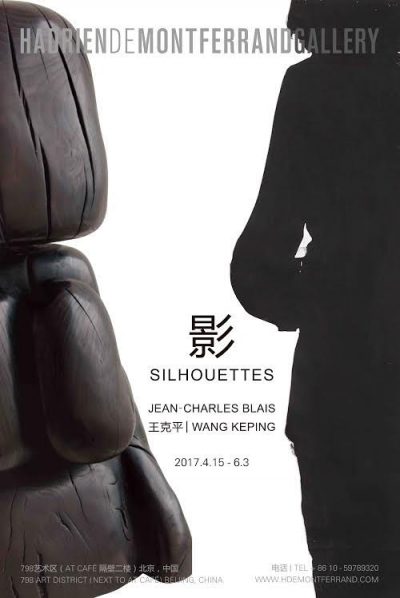 Hadrien de Montferrand Gallery is delighted to announce it will present a dual show of Jean-Charles Blais and Wang Keping entitled "Silhouettes". This is the first cooperation with the gallery for both artists. The present exhibition includes more than 10 works of Jean-Charles Blais including mixed media works on poster and watercolours and 6 wood sculptures of Wang Keping. Both artists are equally active and renowned from the end of the 1970's and beginning of the 1980's: one received critical appraisal as a representative of France's "Figuration Libre" school which was never previously exhibited in China and the other is an important member of China's "Stars" group. We very much look forward to these artists producing a classic and easily enjoyable exhibition in contrast with the quick pace of the information era.
About the artists
Jean-Charles Blais has been present in the public eye since the 1980's, becoming famous for drawing on recycled material (in particular on torn out posters). In 1982, a group of young artists formed the "Figuration Libre" school with the idea of opening of movement of free and passionate art. Jean-Charles Blais founded the "The Sailor With Two Hearts" and became the representative of free figuration in France. After becoming immensely successful, his works underwent a huge evolution, when he started to make prominent his painterly character and artistic intuition from beginning to end.
Wang Keping is well-known member of the Chinese contemporary art avant-garde. He was an important member of China's first experimental artistic group the "Stars". He often uses maple, cherry, oak and other types of wood to produce extremely diverse sculptures of female figures. It could be said Wang Keping is the Chinese contemporary artist who most "understands" wood. He uses a most natural and concise style to express a beautiful and natural feeling.
About the exhibition
Dates: 15/04/2017 – 03/06/2017
Venue: Hadrien de Montferrand Gallery
Courtesy of the artists and Hadrien de Montferrand Gallery, for further information please visit http://hdemontferrand.com.
Related posts: