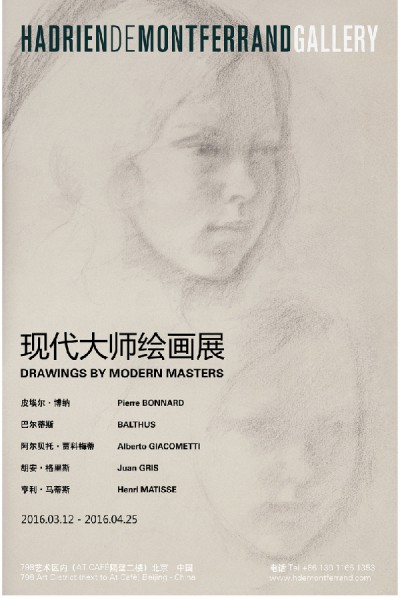 Hadrien de Montferrand Gallery, in collaboration with Galerie Claude Bernard, is delighted to exhibit an exceptional collection of works on paper by European masters considered to be the foremost pioneers of artistic innovation in the first half of the 20th century: Pierre Bonnard (1867–1947), Balthus (1908–2001), Alberto Giacometti (1901–1966), Juan Gris (1887–1927) and Henri Matisse (1869–1954).
Having each revolutionized a part of western art history, their original works on paper, preparatory studies, sketches and drawings are gathered together for the first time in China. Together they help to understand their authors' creative process, their mutual links as well as their reciprocal influence and their legacy to contemporary production.
The exhibition thus allows us to relive an epoch, to discover the main currents of modern art in the west, the decisive steps these artists made and the new inspirations of the 20th century's artistic production. It easily finds its place in China where contemporary art emerged 35 years ago and where east and west are constantly intertwined.
About the exhibition
Opening Reception: Saturday,March 12th, 2016 | 16:00 – 18:00
Duration: March 12th, 2016 – April 25th, 2016
Venue: Hadrien de Montferrand Gallery
Courtesy of the artist and Hadrien de Montferrand Gallery, for further information please visit www.hdemontferrand.com.
Related posts: