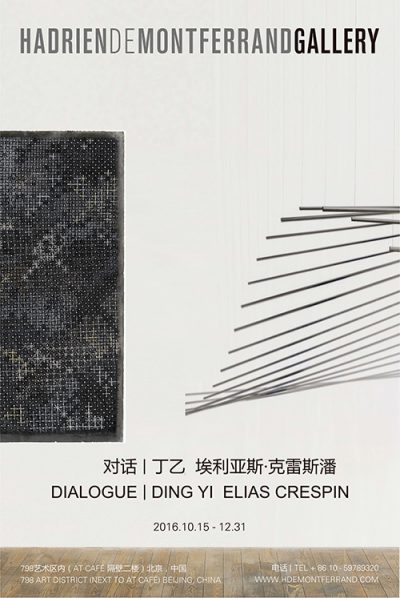 Hadrien de Montferrand Gallery is delighted to present an exhibition featuring two major artists of the international contemporary art scene: Ding Yi and Elias Crespin. For the first time, these two artists are invited to interact with, and create a dialogue of their works. Different in their formal aspects, their works converge in a reflection about space, lines and sobriety. Elias Crespin's grand kinetic installations will be shown side by side with the works on paper of Ding Yi, the pioneer of abstraction in China.
Ding Yi (b.1962), the leader of China's new abstraction in the 1980s, led the way by creating two repetitive patterns "+" and "x". Separated from any representation of political or historical meaning, they are considered a symbol of a new freedom. Ding Yi is thus detached from the figurative and expressionist movements of some of his contemporaries. His crosses form a dense and complex network developed for almost 30 years in different colour compositions, alternatively using pigments, pens, markers, acrylic, pastels, on various media ranging from canvas to paper through cardboard and tapestry. For the artist this repetitive and obsessive use of the same motifs is a way to go beyond the brush strokes of ancient Chinese art, beyond tradition and furthermore to reflect on early modern European Art. Ding Yi makes this method a philosophy. The formal constraint eventually allows him to emancipate from the sociocultural references of many of his peers.
Born in Caracas of Venezuela in 1965, Elias Crespin first studied computer engineering and integrated both science and art into his artistic practice. He thus produces moving sculptures made of suspended metal mesh or rods that float in space, leading a dance of subtle colour and movements animated by small engines and a sophisticated technological device. Crespin also plays with materials – steel, plexiglass and nylon – transparency and shadows. An heir to the South American kinetic art movement he developed a very personal line with his poetic mechanism of geometry.
In this exhibition we can find an exchange about the line and simple geometric shapes with special attention paid to the structure and movement fixed on paper or in action in space. Ding Yi's repetitive patterns of cross co-exist naturally with Crespin's aerial stems and wires, which is a real delight to the visitors grabbed by a playful, meditative and soothing mood.
About the exhibition
Dates: 15/10/2016 – 31/12/2016
Venue: Hadrien de Montferrand Gallery
Courtesy of the artists and Hadrien de Montferrand Gallery, for further information please visit http://hdemontferrand.com.
Related posts: