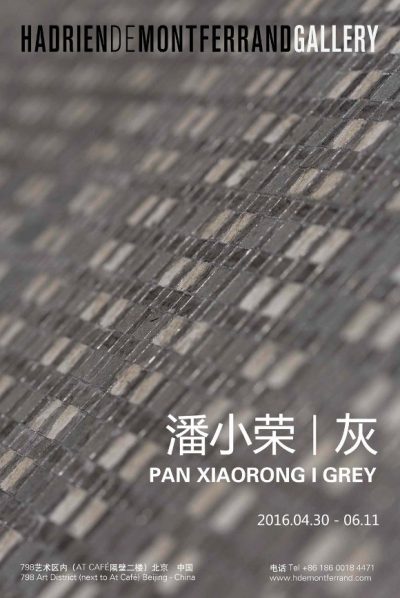 Hadrien de Montferrand Gallery is pleased to present "Grey", a solo show of Pan Xiaorong from April 30th 2016 to June 11th 2016. The exhibition features a series of 13 artworks inspired by Beijing's environmental issues and dealing with the complexity of contemporary times in China.
Pan Xiaorong (1985) is a representative of the new abstraction movement that arose in China in the last half decade and carries on the quest for structure, space, line and repetitions by combining western references with Chinese elements opened by Ding Yi in 1988. Pan Xiaorong has been rigourously painting black-and-white and geometrically structured cardboard carvings with meticulous accuracy. He creates geometric and hypnotic artworks that seem to transform the uncontrollable reality into a disciplined abstraction through simple tools and material like knives, cardboard and ink. He paints his well-organized grid designs on carved cardboards, creating densely patterned artworks that stand somewhere between painting and sculpture.
In 2014, struck by contrasting feelings after reading a report on Beijing pollution, the artist decided to incorporate this dual sense of beauty and oppression in his work introducing a new shade to paint his signature black and white squares: Grey.
Featuring both Pan's geometric grills and this new shade that stands in between black and white, this new series represents both a shift and an extention of his past works, and seems to introduce a new element of social awareness in the artist's work. As the artist stated himself: "I started to paint the artworks featured at the exhibition "Grey" in 2014. These represent the starting point of my diversion from the exploration of forms and the shift to the exploration of aesthetics. In my opinion, gray is beautiful and at the same time represents the intricate psychology of present society."
About the exhibition
Date: April 30 – June 11, 2016
Venue: Hadrien de Montferrand Gallery
Courtesy of the artist and Hadrien de Montferrand Gallery, for further information please visit http://hdemontferrand.com.
Related posts: