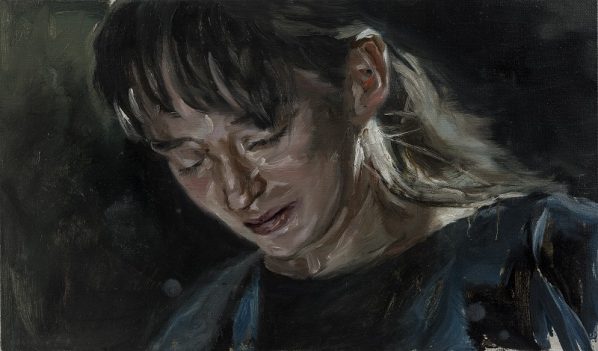 Born in Liaoning, Chen Han (b.1973) graduated in 2005 from the Lu Xun Academy of Fine Arts, an academy renowned for its realistic and figurative tradition. Over the last decade Chen Han has developed a very specific style inspired by film noir in which male and female characters interact in a dramatic way. Men whisper secrets and plots are formed in scenes where the spectator becomes a voyeur. The characters featured never look at each other in the face, they conspire together, they cry, they press themselves on each other, they turn their back at us.
Chen Han chooses to focus on specific parts of the body to express an emotion and zooms in on them to accentuate it. Chen Han portrays relationships, the contradictions inherent in all of us and he creates plots featuring uneasy characters that throw the spectator off balance.
A subtle evolution and a recurrent feature in his works have become obvious over the last few years: he first portrayed characters in boxes from the waist upwards to express a feeling of oppression or protection. He also depicted several people on the canvas to create tension and an overall narrative. He has also branched into morbid topics by portraying characters devoid of heads, arms or legs in surrealist compositions. The preponderance of dark colours with a thick impasto and a somber background give a funereal atmosphere to the scenes and sharpen our curiosity.
The works of Chen Han therefore give us a sense of uneasiness while at the same time making us partake into intimate moments. With his painterly portraits and still lives, Chen Han produces a crepuscular and private world for us to tiptoe through.
About the exhibition
Date: June 11 – August 28, 2016
Venue: Hadrien de Montferrand Gallery
Courtesy of the artist and Hadrien de Montferrand Gallery, for further information please visit http://hdemontferrand.com.
Related posts: