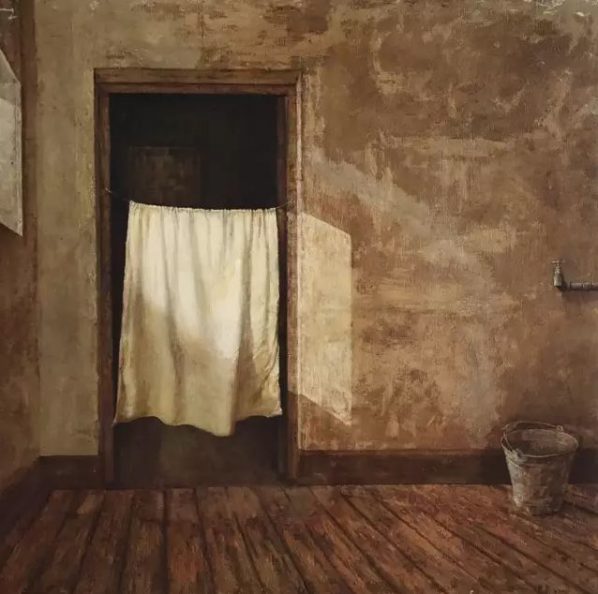 Hadrien de Montferrand Gallery presents 'To Make with Changes | Jiang Zhi' (Part II) this Saturday, the exhibition will display the oil painting 'The Sun of the Day' created in the 1980s from Jiang Zhi's teacher Fan Cangsang, some painting materials for teaching of gouache still life in the 1990s, the video work 'The Light of Transience' in 2010, the photography 'Still Life' in 2014 and oil painting 'Flowers of going-and-coming' in 2016. Thus, this solo exhibition becomes a special and dialogic teacher-student joint exhibition. The exhibition will last until September 30th.
Mourning is one of the key themes of Jiang Zhi's artistic creation. One can mourn an existence, a moment, an event; one can also mourn an era, a feeling, an idea as well as a feeling of 'togetherness', of 'eternity', of 'blindness'. To mourn is to accept that part of oneself has faded away, and to admit that one can do nothing about this loss; it is to find another way to carry on living despite constant changes, and to find 'oneself' again in this new existence; it is to memorialize so as to forget; 'it is a farewell, and a return, and also a moment of departure'.
In the exhibition 'To Make with Changes', Jiang Zhi mourns his teacher Fan Cangsang. The still life is motionless as time goes by, the light is evanescent but moves in cycles, the flower is reborn after burning, Jiang Zhi's works and Fan Cangsang's works are constantly trying to establish a dialogue, and to explore this contradictory and complicated 'existence', it is like a physical space which contains a 'possibility' and awaits a subjective 'invasion'. Taking Fan Cangsang's name as starting point to lead on to an exhibition, to a dialogue, and to a physical space which contains a man with his history, his time, his becoming; it also contains Jiang Zhi's history, his time, his becoming, and also 'ours'.
About the artist
Born in Yuanjiang, Hunan Province, Jiang Zhi was graduated from China Academy of Art in 1995 and now lives in Beijing. As one of the most versatile artists of his generation, Jiang Zhi' s work has been internationally recognized by institutions and galleries including OCAT Shenzhen, Guangzhou Times Museum, White Cube Hong Kong, Magician Space Beijing etc. Meanwhile, Jiang Zhi has numerous publications including Mu Mu (1999), Shine Upon Me (2008), Neurosis and Prattle (2008), On the White (2008), Tremble (2010), If This is a Man (2012), Love Letters (2015), Love-Addict (2016, with Chen Xiaoyun), One is All, All is One, All, Predestiny (2017).
About the exhibition
Dates: Aug 5, 2017 – Sep 30, 2017
Venue: Hadrien de Montferrand Gallery
Courtesy of the artist and Hadrien de Montferrand Gallery, for further information please visit hdemontferrand.com.
Related posts: