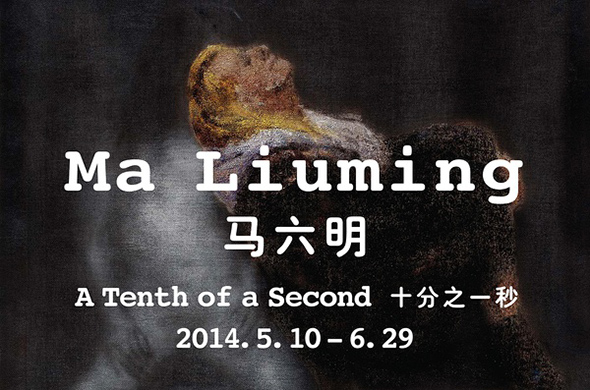 Hakgojae Shanghai is pleased to present Ma Liuming's solo exhibition "A Tenth of a Second at Hakgojae Shanghai from May 10 to June 29, 2014. This exhibition aims to focus and show Ma's recent paintings that are based and created on his records of performance from the 1990s.
Since 1997, Ma Liuming produced his self-portrait performance for the spectators around the world. Keeping an expressionless face and silence, Ma just sits on a chair and hits the remote shutter control whenever a spectator steps into the photo zone and does anything to him or to the empty chair beside him.
"A Tenth of a Second" is from a title of the essay written by Duan Jun and also from the camera shutter speed set by the artist during his performance in taking a self-portrait with the spectators with a remote shutter control. Since 2012, Ma has selected from the historical records of performance as a subject matter of painting. After 15 years of sedimentation, the figures of the spectators have already fermented, changing into different appearances, even getting reconstructed and recomposed, acquiring an absurd and conflicting nature that transcends reality and time.
There are 13 canvas works and a video of performance "Fen•Ma in Dusseldorf" on display in Hakgojae Shanghai.
Foreword
The Impersonal State
By Wang Yanyun
Ego is defined by one's way of looking at and responding to things.
Artists are considered extraordinary because they both have a strong ego and the capability of self-interpretation. Artists are arbitrators for themselves; they are never short of the ability to surprise spectators, making them watch carefully and listen patiently. But since 1997, when spectators visited art space with the expectation to encounter "Fen•Ma Liuming" and ready to be overwhelmed by the artist's ego, they ended up finding Ma Liuming sitting on a chair, silent and expressionless. He just hit the remote shutter control when a spectator stepped into the photo zone and did anything to him or to the empty chair beside him. Since 2000, Ma with the help of sleeping oil sleeps in his performance, leaving a silent body and entering a total impersonal state. Regardless of formality and away from all attachments, he arrives at the state between achieved and unachieved.
The artist refuses to express himself and instead forces the spectators to do something to break the ice. They start the self timer on the camera that is set up beforehand, take off their clothes and sit by the artist, or hold him by the arm, or kneel before him, or put their clothes on him, creating a scene that is absurd and rigid, depressed and sorrowful. At the same time, Fen•Ma Liuming becomes a neutral and materialized vessel, hidden behind the shutter speed of 1/10 second, waiting for spectators to file in. If I were at the site during this performance, I would have wondered what exactly the camera had recorded. Because I would know that time has already changed the appearance of the artist who took a self-portrait with me. The complexity of life makes encounters between individuals generate an irresistible texture of fate, different and colorful. Therefore a tenth of a second becomes important – we meet and interact with a stranger, act in an appropriate way, and never see each other again, only to become a mark on the other's coordinates of life, a persistent historical existence.
In painting the artist reflects on his relationship with the others, while eventually leading to the production of images from memory. Fen•Ma Liuming is half visible and vaguely shaped on canvas. She is like a vessel: the latter's function is to contain, yet a difference in material-clay, pottery or ceramic- results in a different effect. Material is the key, and it is where the ego of the artist lies.
Photo courtesy of Hakgojae Shanghai, translated by Chen Peihua and edited by Sue/CAFA ART INFO.
Related posts: