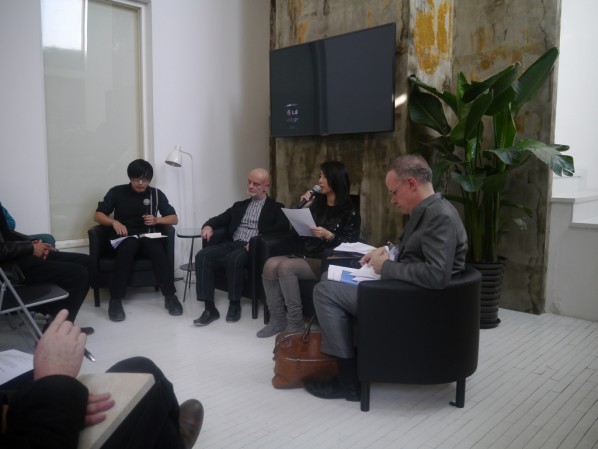 In the afternoon of November 23, 2013, an improvised dialogue of "Hans Ulrich and Me" was held at CCAA cube in Beijing, where Hans Ulrich Obrist chatted with five Chinese curators including Wang Huangsheng, Zhu Zhu, Li Zhenhua, Li Feng, and Liu Lili. The dialogue that unfolded was around the theme of "contemporary art critic, curatorial", trying to find urgent answers and they made some interesting conclusions through questions and answers.
Before the dialogue of "Hans Ulrich and Me", Liu Lili, Director of CCAA Chinese Contemporary Art Award introduced the guests, including Hans Ulrich Obrist, born in 1968, curator, art critic, art historian, Co-director of Exhibitions and Programmes at the Serpentine Gallery, London; Wang Huangsheng, Professor of CAFA, Director of CAFA Art Museum; Zhu Zhu, poet, art curator, art critic and winner of the Chinese Contemporary Art Award for Critics 2011; Li Zhenhua, multimedia artist and curator, served as the planner of the First International New Media Art Festival 2002 which was organized by the Beijing World Art Museum at the China Millennium Monument; Li Feng, Acting Executive Director of Minsheng Art Museum.
In addition, Liu Lili introduced the content of the work of the Chinese Contemporary Art Award, Chinese Contemporary Art Awards Archive and Chinese Contemporary Art Awards Salon. Subsequently, Uli Sigg, founder of the Chinese Contemporary Art Awards talked about the original idea to establish Chinese Contemporary Art Awards which aims to stimulate more talk on Chinese contemporary art while inviting international scholars to learn about Chinese contemporary art, the establishment of a new space of CCAA which would continue to uphold the independent and academic language to discuss Chinese contemporary art.
Abstraction of the dialogues
Hans Ulrich dialogued with Wang Huangsheng: A Relationship Between Curators and Art Museums
Hans Ulrich said it was feasible for freelance curators and museum curators to exit simultaneously, maintaining a special identity of "being a staff of an art museum while drifting away from it". Hans Ulrich believed that a curator had four functions: Historic preservation (similar to the protection of cultural relics); choosing new works, founding a new collection; study of art history (including the study of contemporary art); display and organization of exhibition. The fourth feature was particularly prominent in the contemporary context.
Hans Ulrich dialogued with Zhu Zhu: Curatorial Challenges and Experiences
Hans Ulrich dialogued with Li Zhenhua: Curating Exhibitions from Space to the Dimension of Time
Hans Ulrich dialogued with Li Feng: Exchanges and Contemporary Collections of Chinese and Western Uoung Artists
Hans Ulrich said we should avoid the "same" phenomenon in the context of globalization, exploring local art resources in the process of face-to-face exchanges with artists from different districts. In addition, the exchange of artistic media was also very important, and we need to find new means of communication, to stimulate a new spark. Hans said that how to choose a collection was secondary, while a collection of diversity was more important.
Hans Ulrich dialogued with Liu Lili: About the Art Awards
Hans Ulrich said it was necessary that artists were the center of art awards, while fully thinking of the disseminating power of the media. For the idea of ​​the establishment of the art award, Hans said people should respect the wishes of the artists more and art awards should be a dialogue that continues to grow, to be involved in, in addition to an exhibition, it could connect the spectators via video, documentary, etc. Meanwhile, Hans said art awards should also pay attention in training artists, as much as possible to create and provide opportunities for them, transforming art awards into a constantly generated continuity.
Art exchange is a power of promotion of mutual art development, a way to promote mutual understanding. Time was too short for Hans and five Chinese curators to fully expand on an in-depth dialogue, but it was significant for CCAA Chinese Contemporary Art Awards to build a platform of communications between Chinese and foreign curators, a variety of issues came out in the discussions, without an exact answer, while Hans offered various possibilities which were undoubtedly with reference to the development of Chinese contemporary art.
Journalist: Ye Yuanfeng, translated by Chen Peihua and edited by Sue/CAFA ART INFO.
Related posts: