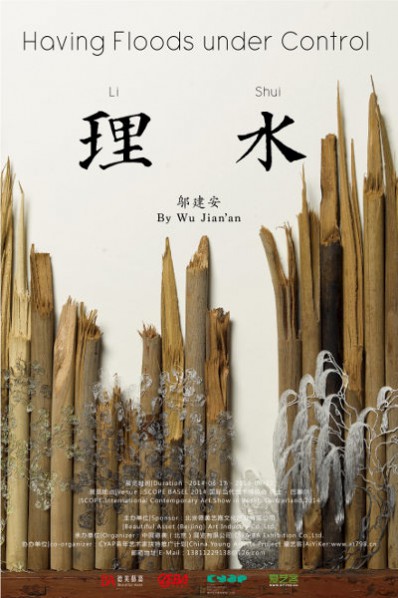 "Having Floods under Control" tells the story about the Chinese ancient fairy tale "Da Yu Controlling the Floods", which involves four parts, including "Trapping the Dragon", "Cutting the Shovel", "Breaking the rafts" and "Steadying the Mountains". Each part is reflected by several pieces of art works. Wu uses the traditional Chinese elements to show his special art form, such as knife cut stencil and silhouette, which attracts many visitors. The artist Wu Jian'an is a member of China Young Artist Project(CYAP), participates in both domestic and oversea exhibitions, such as The First "CAFAM·Future" Exhibition, Art Basel HK 2014 and FIAC (Foire Internationale d'Art Contemporain) . Wu says, he wants to integrate both the forms of the traditional Chinese art and the contemporary art to build a new way, which can express the spirit of Chinese art to the west world better.
Wu is one of the artists supported by CYAP, a non-profit project of the Beautiful Asset (Beijing) Management Co., Ltd. and the China International Culture Association (CICA). It was created to help young artists by selecting China's best visual artists and then nurturing them with the skills and opportunities needed to excel in today's super-competitive art world. During the past two years, CYAP has actively attended art fairs and art exhibitions, both domestically and internationally, including Art Paris Art Fair, Art Asia Miami, 55th Art Biennale-La Biennale di Venezia 2013, 2013 Art Beijing Art Fair, China International Youth Arts Festival, Moscow Museum of Modern Art Exhibition, Exhibition in Istanbul Biennale.
About the exhibition
Duration: June 18 – June 22, 2014
Venue: SCOPE Basel 2014
Add: SCOPE Basel 2014, Basel, Switzerland
Courtesy of the artist and SCOPE Basel 2014.
Related posts: