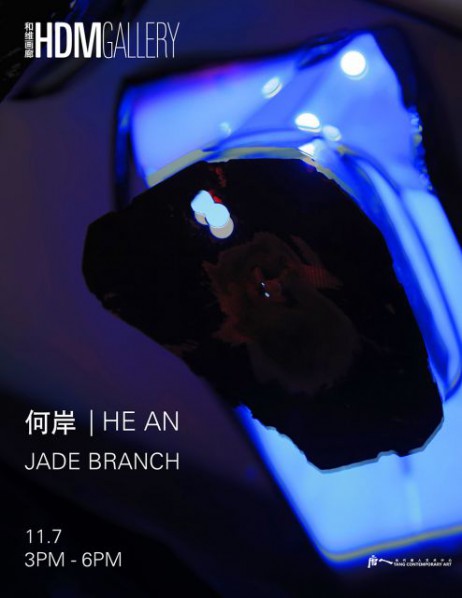 HDM Gallery is pleased to present "Jade Branch", He An's first solo exhibition in Hangzhou. The exhibition consists of 11 works, including "He Taoyuan", "Wind Light as a Thief", "Miho Yoshioka" and "Yuzhi", a completely new work. This is He An's first solo exhibition in Hangzhou, and his first exhibition of neon installations since 2011. The artist will attend the opening on November 7th.
The exhibition is a continued exploration and innovation of the artist's previous works. It includes 2 round LED installations. Adopting Chinese characters as the core elements of these works, the artist traces the bottom line of the work-title's characters and joins them in a circle. One of them, "We Play the Flute, You Do Not Dance", subverts the context and meaning of a line taken from Matthew's Gospel (11:17). The other round LED piece entitled "Nighttime and the Day-time Within" is a metaphor of the circle of life and death.
Apart from these round works, his iconic neon installations will also be exhibited. These neon works are composed of characters stolen by the artist's friends from different advertising billboards in Wuhan, the artist's hometown. They are then repaired, recomposed, relit and painted in a Beijing factory to be turned into works with their own symbolism. Having been recombined, the broken neon pieces acquire a whole new meaning. They are not only a memento of artist's personal experience, but also a reflection of the relationship between men and their metropolitan environment. Three of the installations are entitled "He Taoyuan", the name of the artist's father and a new work – "Yuzhi", the name of his mother, will be exhibited for the first time. In hornor of his mother, this unique work is regarded as the pivotal turning point of He An's neon lights series.
About the exhibition
Date: Nov 7, 2015 – Dec 5, 2015
Opening: Nov 7, 2015, 15:00, Saturday
Venue: HDM Gallery
Courtesy of the artist and HDM Gallery, for further information please visit www.hdmgallery.com.
Related posts: